Gardening Advice & Tips for Irish Gardeners
Potato Wedges Recipe - How To Make & Freeze Potato Wedges
One of the best things to do with your new potatoes is to make potato wedges from them. An added bonus of this is that you can make extra and freeze them so you can eat them later in the year. The other great thing about making them yourself is that you can make them what ever flavour you like and you determine the size of them also. The other big advantage is that you know exactly what went into the coating and you can ensure that there are no artificial nasties in your wedges.

To make the potato wedges, based on what I use, you'll need the following....
A few large sized potatoes (some varieties are better than other but most types are ok for the job)
I am using my own Kerr's Pink for this demonstration.
Some garlic butter, salt & black pepper (use your imagination here, I just like this mix)
A pot to boil the potatoes
A baking tray to bake the wedges
A big pot or wok (I use the wok) to mix the coating onto the wedges
Non latex plastic gloves (optional)
There are many ready made packets of wedge mix on the market but as I say above, the one I like is just the garlic butter, salt and pepper mix. Other options here might include, paprika, rosemary, cajun, barbeque etc....
Step 1 - Pick & Dry your potatoes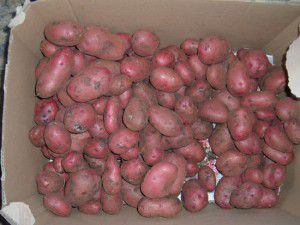 You can skip this step if your spuds are store or market bought.
Dig out your spuds from the ridge and once dug out, leave to dry out a bit. You can do this perhaps on some cardboard on the side of the ridge or maybe on the garden table. Obviously do this on a dry day. It doesn't take that long , is good practice and should be done before storing them anyway.
Step 2 - Wash and cut your Potatoes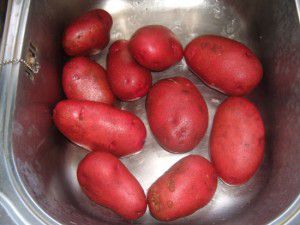 Prety much what it says on the tin. Just give them a good scrub under the tap and then cut into the desired shapes. I prefer thick chunky wedges, so I use the very biggest of my spuds for this and cut them lengthways into wedges. You can choose to peel them if you like, I always leave the skins on, after all my Granny used to say, it was the best part of the spud, and who am I to argue with her!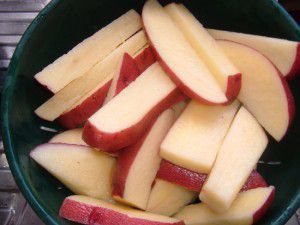 Step 3 - Par Boil the Potatoes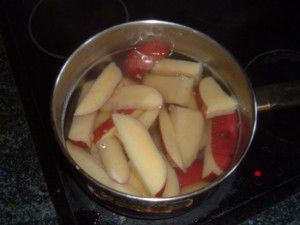 This is optional but I always do this. I put the cut wedges into a pot of boiling water for maybe 5 minutes and then remove them and drain the par boiled potatoes.
Step 4 - Add the coating the the par boiled wedges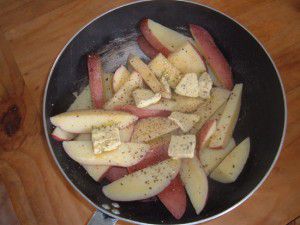 For this I use my old trusty wok. Empty the drained wedges into the wok and put a few generous knobs of garlic butter, salt and pepper in on top of them. If you don't mind the small of raw garlic, just mix around as best you can, ensuring that all wedges get coated, with your bare hands. I use latex free plastic gloves as I'm not a fan of raw garlic at all. Be careful while doing this as the wedges will be very hot. You could use a couple of wooden spoons to do this either if it is too hot for you.
Step 5 - Bake the wedges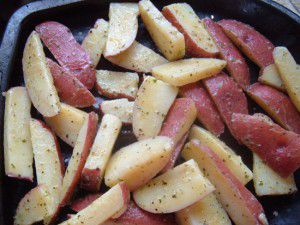 Fill a baking tray(don't heap them) and put in a pre-heated oven and leave for about 20-30 mins, depending on how you like them. I like them really crispy, so I leave for a bit longer. I cook them at 220 C (430F & Gas Mark 7). The length of cooking time will very much depend on the size of the wedges. As I like them bigger, it does take longer. It's always worth having a look as they are cooking to make sure that you don't burn them.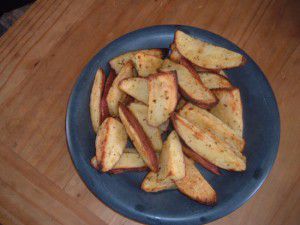 That's it so. All done and better than any you'll ever get in the shop. Enjoy with whatever dip takes your fancy.
Step 6 - Freezing the Potato Wedges
If you can resist eating them, go on to the next step, the freezing is quite simple.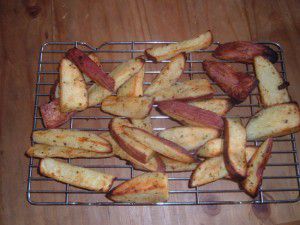 Just let the wedges cool down fully. To do this, I place on a rack from the grill and leave near an open window, keep an odd eye on them though for flies, wasps etc.
Once fully cooled, place in a freezer bag. I use zip locked ones but there are other type available. Don't fill the bag ans squueze as much air from the bag as possible. I normally fill up to around 30-50% of the bag. This way I can flatten them out into one layer while freezing. This helps them from sticking together in the bag. Once frozen, you can transfer to them to a larger bag and fill that, no problems without sticking together.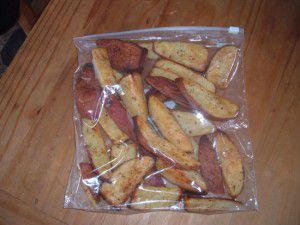 To recook the wedges, you can fry or bake them again. Depending on the size of the wedges you made, the cooking time will vary. I never fry them, so can't speak to the length of cooking time here, probably be around the length it takes to cook frozen chips. When baking them from frozen, I cook for around 20 mins in a preheated over at 220 C.
As always, cook the wedges from frozen, don't thaw them a recook them. Enjoy and soon you will be enjoying scrummy crispy potato wedges with fluffy insides. Yum!
Prev Post:
Technorati
Next Post:
Thinning Carrots – Why Not Transplant The Carrot Seedlings?