Next day delivery available on most products. Order before 4pm Mon-Thurs.

Broccoli Seeds - Description
Pack of Broccoli Seeds
Variety: Marathon
Good Sized Heads
Slow to Bolt
Packet Size: Approx 100 Seeds
Late Summer Crop
Produces Large Blue Heads
Excellent Flavour
Very Good Disease Resistance
Good Cold Tolerance
F1 Hybrid: First Generation of Controlled Cross Pollination
Broccoli Seeds - Sowing Instructions
Sow: April to May
You can start broccoli seeds earlier indoors in seed trays & transplant out after 6 to 7 weeks
Transplant 30cm apart & keep under cloche for protection
Soil: Deep & fertile
Happy in heavy clay but doesn't like sandy soils
Harvest: July to November
See how to grow tab for full growing instructions
Broccoli Seeds - Uses
Use in pastas or soup
Excellent when boiled or steamed
High in vitamin A & C
High in iron
Broccoli Seeds - Advantages
This is a popular variety of broccoli
Common in stores
Autumn harvest variety
Gives good sized heads
Tastes great
Broccoli - Note
Most broccoli sold in supermarkets is actually calabrese not broccoli!!!!
Index
Sowing Instructions
How to Transplant
Crop Maintenance
How to Harvest
Storage
Pests & Diseases
Sowing Instructions
Sowing time: Sow from March to June
Sowing location: Starting indoors in 9cm pots
Soak soil before sowing
Sow 3 seeds in the centre of each pot, approximately 2.5cm deep
Cover the seeds with soil & water well
Germination after 10 days
Seedlings can be thinned out once they emerge
Broccoli can be sown directly outdoors in mid April
Sow seeds thinly
How to Transplant
Transplant in early summer, once plants reach 15cm in height
Space calabrese 30cm apart in rows
Soil: Calabrese thrives in rich, well drained soil
Medium heavy soil is preferred
The soil should be prepared well in advance and allowed to settle
Preferred ph is between 6.5 and 7.5
Crop Maintenance
Add manure or rotted compost in the autumn before planting
Be sure to weed the soil and make sure it is stone free
Mulch around the plant to ensure water retention
Water well in dry spells
However be careful not to water too much
Harvesting
Calabrese is fast growing, some varieties will be ready to harvest after 45 days
Harvest when side florets start to loosen
When the main head is still compact
Cut the calabrese at the base of the stalk
Storage
Short term storage: Place in a compartment in the fridge
Can be frozen for longer term storage
Simply blanch as you would with other vegetables, allow to cool, then freeze
Pests & Diseases
Pests: Cabbage root fly
Damage: Affects the roots causing them to swell and distort
Careful attention is vital in combating pests
If problem gets out of hand, a chemical may be introduced
Other pests and diseases include caterpillars, cabbage rot and maggots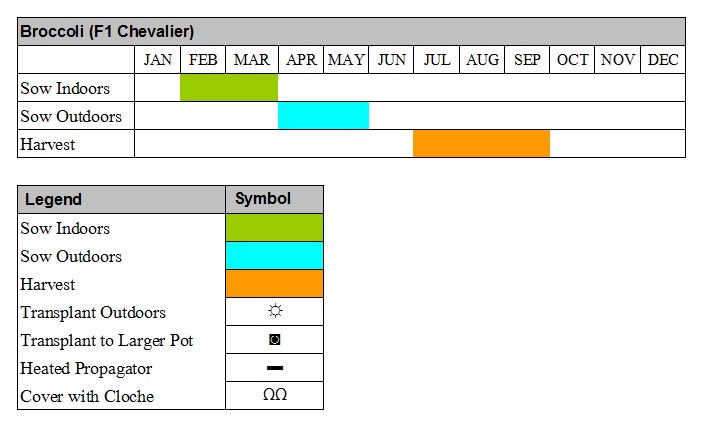 Here at TheGardenShop.ie we aim to provide a fast, reliable & low cost delivery service
Shipping Options & Rates
Standard Courier Delivery With Fastway (2-4 Working Days)

Cost is €4.95 on Orders Below €75
Free Delivery on Orders Above €75
Rep. of Ireland & Northern Ireland Only

Express Courier Delivery With Fastway (1-2 Working Days)

Cost is €2.50 extra for express delivery
This service guarantees that any order placed before 4pm will ship from our depot the same day on the next day delivery service *
Rep. of Ireland & Northern Ireland Only

Express Delivery With DPD (1-2 Working Days)

Cost is €3 extra
This service guarantees that any order placed before 4pm will ship from our depot the same day on the next day delivery service *
Rep. of Ireland & Northern Ireland Only
This services comes with text alerts and timed delivery slots which the customer can change to suit themselves

'Seed' Postal Delivery Option ***

Cost is €2 - Packet of Seeds ONLY Orders
Note: Does Not Apply to Seed Potatoes, Bulbs or Sets ***
Rep. of Ireland & Northern Ireland Only

Great Britain

Cost is €10
UK shipping fee covers parcels up to a total weight of 20Kg
Western Europe

Note: There is no free delivery for Western Europe Deliveries
Bulk Bags & Large Item Pallet Deliveries
Bulk bags & large orders are shipped via pallet couriers on a rigid lorry
Delivery is to kerbside only
If road access to your site is tight, then please advise us before purchasing
Please Note: We cannot guarantee next day delivery on pallet deliveries
Also, we cannot guarantee delivery on a specific day (Please allow 1-3 days for delivery)
It's always best to order well in advance to avoid disappointment
Cancellation of pallets when items are already in transit will incur a 40 euro per pallet cancellation fee (To cover return delivery costs)
Where pallet delivery can not be made due to site access, a 40 euro per pallet cancellation fee will apply (To cover return delivery costs)
International Delivery Prices & Times
Please note max weights below, heavier orders may require additional payment
We will contact you to discuss, if max weight of order exceeded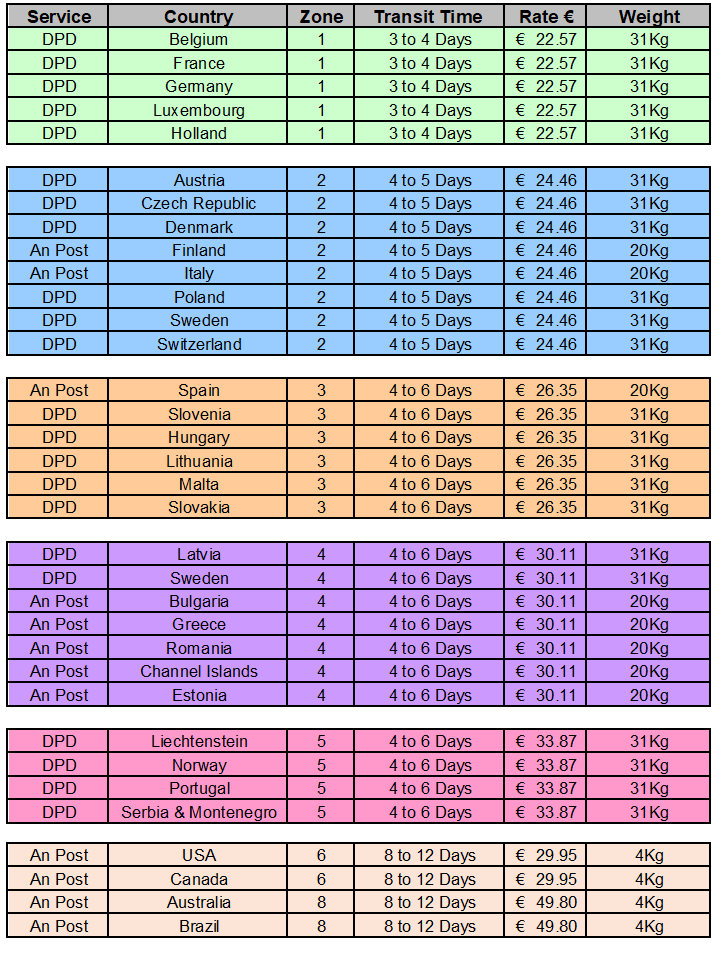 Terms
The shipping fee is fixed for an order, regardless of the number of items bought
All courier orders require signed proof of delivery & the customer must be contactable by phone
We do not offer a weekend delivery service (Mon-Fri Only excl. Bank Holidays)
* Our courier achieves a 98% success rate on next day deliveries
** Seed postal option applies to seed ONLY orders & is available in all 32 counties of Ireland
*** Does not apply to seed potatoes, bulbs or sets