Next day delivery available on most products. Order before 4pm Mon-Thurs.

Dried Seaweed - Description
100% Pure Dried Seaweed
Note: Free 1 Litre Seaweed Foliar Feed Included With Every Purchase
Organic Soil Conditioner
Revitalises Soils & Encourages Better Growth
Seaweed: Ascophyllum Nodosum
Sustainably Harvested Along the West Coast of Ireland
Volume: 10Kg
Coverage: 250m2
Contains:


Alginate (16 - 26%) - Increases Soil Microbial Activity & Improves Moisture Content in Soils
Plant Hormones (Cytokinins & Betaines) - Increase Plant Growth & Yields
Plant Nutrients (Nitrogen, Phosphorus & Potassium) - Essential for Plant Growth

100% Organic
Dried Seaweed - Uses & Application
Atlantic Gold Seaweed should be applied to soils to improve growing conditions

Structure
Soil life
Water retaining capacity

Use as a fertiliser at planting or as a topdressing on fruits, veg & flowering plants to...

Increase yields
Increase germination rates
increase nutrient uptake
Increase plant's resistance to pests, disease & frost
Apply to compost heaps to speed up composting process
Dried Seaweed - Application
Lawns: 5Kg per 100m2
Well structured top soils: 25 - 50Kg per 500m2
Poorly structured top soils: 50 - 75Kg per 500m2
Sub soil: 75 - 150Kg per 500m2
Vegetables: 100 - 150g per 1m2
Flower & Shrubs: 100 - 150g per 1m2
Atlantic Gold Seaweed - The Story
Seaweed grows in the turbulent Pacific & Atlantic oceans. It is here that the seaweed absorbs many of the worlds elements, including essential plant elements & trace elements.
Along the west coast on Ireland, where this seaweed washes up, it has been used for centuries as a soil conditioner & fertiliser. On barren landscapes & rocky islands, seaweed has become an essential ingredient to ensure the fertility & sustainability in these places.
As well as fertility, seaweed brings a host of bacteria & fungi that work with plants to boost pest resistance & increase nutrient uptake ability.
Atlantic Gold sustainably harvests this natural resource & has repackaged it into a range of user friendly soil conditioners, fertilisers & foliar feeds.
Note: We don't ship plants on Fridays due to the extended period they would remain without light & water
Here at TheGardenShop.ie we aim to provide a fast, reliable & low cost delivery service
Shipping Options & Rates
Standard Courier Delivery With Fastway (2-4 Working Days)

Cost is €4.95 on Orders Below €75
Free Delivery on Orders Above €75
Rep. of Ireland & Northern Ireland Only

Express Courier Delivery With Fastway (1-2 Working Days)

Cost is around €5 extra for express delivery
This service guarantees that any order placed before 4pm will ship from our depot the same day on the next day delivery service *
Rep. of Ireland & Northern Ireland Only

Express Delivery With DPD (1-2 Working Days)

Cost is €3 extra
This service guarantees that any order placed before 4pm will ship from our depot the same day on the next day delivery service *
Rep. of Ireland & Northern Ireland Only
This services comes with text alerts and timed delivery slots which the customer can change to suit themselves

'Seed' Postal Delivery Option ***

Cost is €2 - Packet of Seeds ONLY Orders
Note: Does Not Apply to Seed Potatoes, Bulbs or Sets ***
Rep. of Ireland & Northern Ireland Only

Great Britain

Cost is €10
UK shipping fee covers parcels up to a total weight of 20Kg
Western Europe

Note: There is no free delivery for Western Europe Deliveries
Bulk Bags & Large Item Pallet Deliveries
Bulk bags & large orders are shipped via pallet couriers on a rigid lorry
Delivery is to kerbside only
If road access to your site is tight, then please advise us before purchasing
Please Note: We cannot guarantee next day delivery on pallet deliveries
Also, we cannot guarantee delivery on a specific day (Please allow 1-3 days for delivery)
It's always best to order well in advance to avoid disappointment
Cancellation of pallets when items are already in transit will incur a 40 euro per pallet cancellation fee (To cover return delivery costs)
Where pallet delivery can not be made due to site access, a 40 euro per pallet cancellation fee will apply (To cover return delivery costs)
International Delivery Prices & Times
Please note max weights below, heavier orders may require additional payment
We will contact you to discuss, if max weight of order exceeded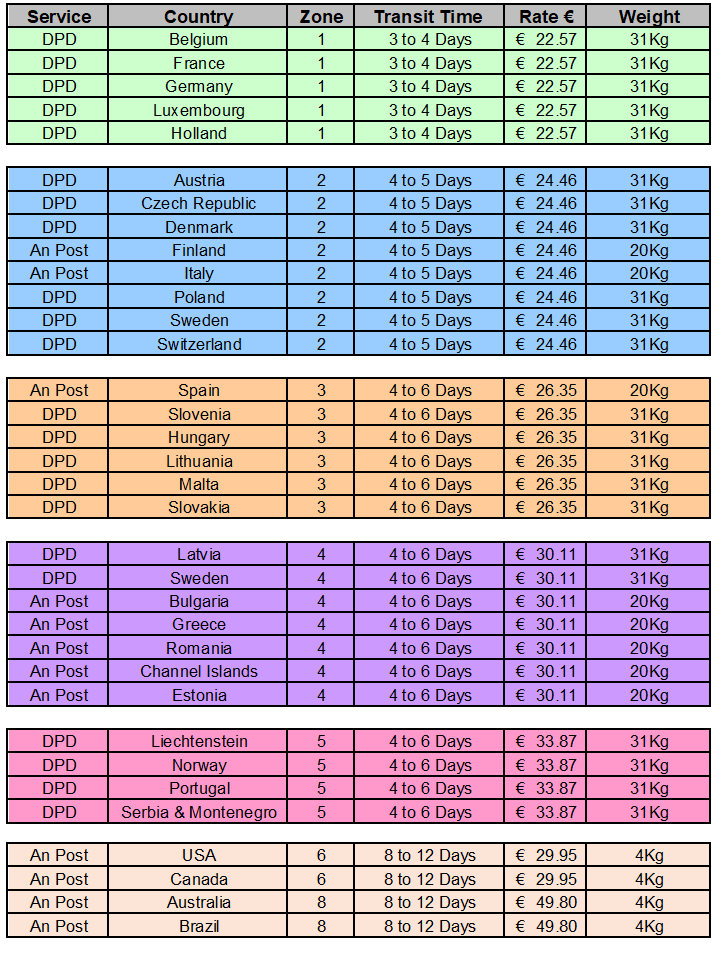 Terms
The shipping fee is fixed for an order, regardless of the number of items bought
All courier orders require signed proof of delivery & the customer must be contactable by phone
We do not offer a weekend delivery service (Mon-Fri Only excl. Bank Holidays)
* Our courier achieves a 98% success rate on next day deliveries
** Seed postal option applies to seed ONLY orders & is available in all 32 counties of Ireland
*** Does not apply to seed potatoes, bulbs or sets