Next day delivery available on most products. Order before 4pm Mon-Thurs.

Frog House - Description
High Quality Frog House
Ideal Sanctuary For Frogs & Toads
Summer & Winter Habitat
Provides Protection From Predators
Handmade
Material: High Fired Ceramic
Finish: Glazed With Green Decoration & Tagine Style Roof
Dimensions (HxD): 203 x 203mm
Frog House - Where to Position
Frog house is best placed near a pond or damp area
Frogs prefer a shaded spot away from direct sunlight
Clever Design: The base of the frog house is cut away at the entrance
This provides contact with the cool soil for Summer conditions
The ceramic base towards the back gives insulation & warmth
This back shelf will be used as Wintering quarters for toads & female frogs
Note: Over time, in Winter, the frog house may be covered with vegetation in winter to provide additional cover
A Little About Frogs
They live in damp habitats by ponds & lakes
Frogs are amphibious & live on both land and in the water
They can breathe through their skin as well as through their lungs
Some differences between Toads & Frogs include...


Toads have shorter legs than frogs
The skin of toads is drier & warty
While frogs hop, Toads crawl
Frogs have dark patches behind their eye
Frogs lay their spawn in a clump, whilst toads lay a long strings of spawn
One thing they have in common is that they will both love our frog house!
Note: We don't ship plants on Fridays due to the extended period they would remain without light & water
Here at TheGardenShop.ie we aim to provide a fast, reliable & low cost delivery service
Shipping Options & Rates
Standard Courier Delivery With Fastway (2-4 Working Days)

Cost is €4.95 on Orders Below €75
Free Delivery on Orders Above €75
Rep. of Ireland & Northern Ireland Only

Express Courier Delivery With Fastway (1-2 Working Days)

Cost is around €5 extra for express delivery
This service guarantees that any order placed before 4pm will ship from our depot the same day on the next day delivery service *
Rep. of Ireland & Northern Ireland Only

Express Delivery With DPD (1-2 Working Days)

Cost is €3 extra
This service guarantees that any order placed before 4pm will ship from our depot the same day on the next day delivery service *
Rep. of Ireland & Northern Ireland Only
This services comes with text alerts and timed delivery slots which the customer can change to suit themselves

'Seed' Postal Delivery Option ***

Cost is €2 - Packet of Seeds ONLY Orders
Note: Does Not Apply to Seed Potatoes, Bulbs or Sets ***
Rep. of Ireland & Northern Ireland Only

Great Britain

Cost is €10
UK shipping fee covers parcels up to a total weight of 20Kg
Western Europe

Note: There is no free delivery for Western Europe Deliveries
Bulk Bags & Large Item Pallet Deliveries
Bulk bags & large orders are shipped via pallet couriers on a rigid lorry
Delivery is to kerbside only
If road access to your site is tight, then please advise us before purchasing
Please Note: We cannot guarantee next day delivery on pallet deliveries
Also, we cannot guarantee delivery on a specific day (Please allow 1-3 days for delivery)
It's always best to order well in advance to avoid disappointment
Cancellation of pallets when items are already in transit will incur a 40 euro per pallet cancellation fee (To cover return delivery costs)
Where pallet delivery can not be made due to site access, a 40 euro per pallet cancellation fee will apply (To cover return delivery costs)
International Delivery Prices & Times
Please note max weights below, heavier orders may require additional payment
We will contact you to discuss, if max weight of order exceeded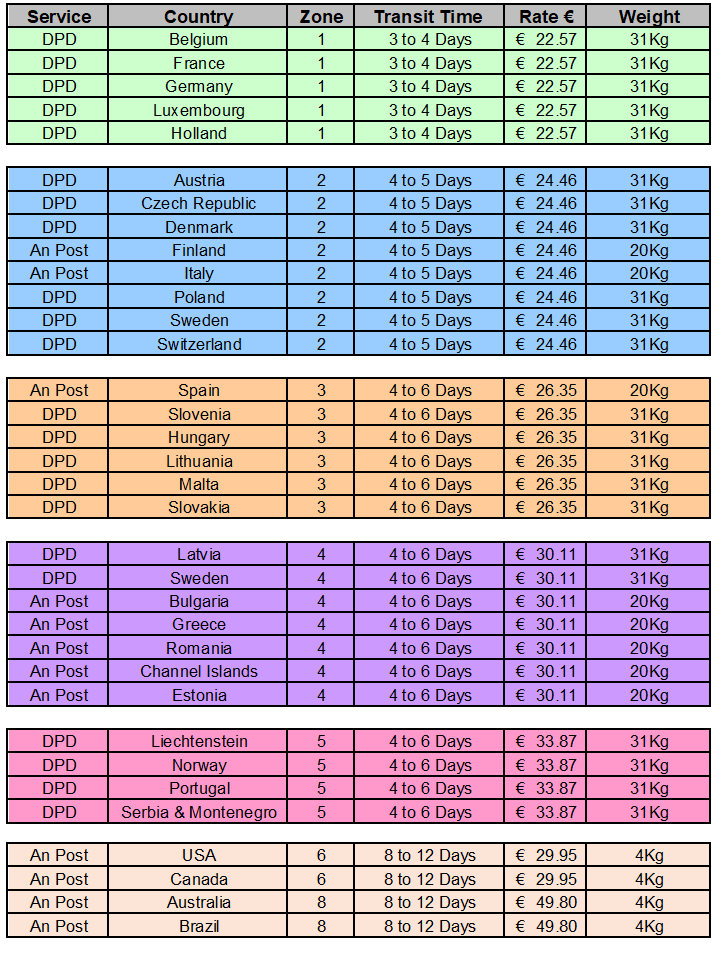 Terms
The shipping fee is fixed for an order, regardless of the number of items bought
All courier orders require signed proof of delivery & the customer must be contactable by phone
We do not offer a weekend delivery service (Mon-Fri Only excl. Bank Holidays)
* Our courier achieves a 98% success rate on next day deliveries
** Seed postal option applies to seed ONLY orders & is available in all 32 counties of Ireland
*** Does not apply to seed potatoes, bulbs or sets