Next day delivery available on most products. Order before 4pm Mon-Thurs.

Ground Cover Rose Plant - Description
Bare Root Ground Cover Rose Plants
Bundle of 3 Plants
Rosa 'Heidetraum'
Hardy Rose, Easy to Grow
Habit: Low Growing, Ground Cover
Maintenance: Low
Repeat Bloomers: Flowering From Mid Summer Into Late Autumn
Colour: Pink
An Old Rose, Introduced in 1869
Bourbon Rose
Strong Fragrance
Bare Root Plant
Current Plant Size: 20cm in Height
Grade A Roses
Ground Cover Rose Plant - Characteristics
Low growing, spreading rose
Flowers: Repeat bloomer, double blooms
Mature height: 50cm
Habit: Low growing, compact rose
Growth rate: Moderate
Fragrance: Slight
Susceptible to rose black spot, rose rust & powdery mildew
Also affected by rose dieback, replant disease, canker & honey fungus
Ground Cover Rose Plant - Uses
Excellent ground cover plant
Use to cover ground, reduce maintenance & weeding
Great choice for front of borders
Use to under-plant shrubs & taller rose plants
Excellent for colour in your garden from mid Summer to late Autumn
Best when planted in large groups as this gives the biggest impact
Ideal in rose beds, flowering borders
Suited to a sunny spot on well drained soils
Ground Cover Rose Plant - Planting Instructions
Sowing Time
Sow on arrival
Bare root shrub roses are on sale from October to March
Do not plant in frosty conditions
Hole Preparation
Dig a big planting hole. 1½ x 1½ ft
Mix in well rotted manure
Also mix in a small handful of fertiliser
Handling the Plants
Take care not to damage plant's roots
Keep covered until time of planting
Do not expose the roots to light or allow to dry out
Ensure roots are always protected from frost prior to planting
Water plants before & after planting
Feed plants over the Summer months
Use a fertiliser high in potassium
Apply rose clear to foliage to prevent mildew, rust & greenfly aphids
Pruning Ground Cover Roses
Roses need to be pruned back each year
They will grow fast & develop several flowering stems each year
Late Winter to early Spring, once worst frost has past, prune the roses
Cut out all dead, dying & diseased branches
Remove any crossing over or rubbing stems
Then, cut back strong shoots by a third
Shorten side shoots back two or three buds.
Note: We don't ship plants on Fridays due to the extended period they would remain without light & water
Here at TheGardenShop.ie we aim to provide a fast, reliable & low cost delivery service
Shipping Options & Rates
Standard Courier Delivery With Fastway (2-4 Working Days)

Cost is €4.95 on Orders Below €75
Free Delivery on Orders Above €75
Rep. of Ireland & Northern Ireland Only

Express Courier Delivery With Fastway (1-2 Working Days)

Cost is around €5 extra for express delivery
This service guarantees that any order placed before 4pm will ship from our depot the same day on the next day delivery service *
Rep. of Ireland & Northern Ireland Only

Express Delivery With DPD (1-2 Working Days)

Cost is €3 extra
This service guarantees that any order placed before 4pm will ship from our depot the same day on the next day delivery service *
Rep. of Ireland & Northern Ireland Only
This services comes with text alerts and timed delivery slots which the customer can change to suit themselves

'Seed' Postal Delivery Option ***

Cost is €2 - Packet of Seeds ONLY Orders
Note: Does Not Apply to Seed Potatoes, Bulbs or Sets ***
Rep. of Ireland & Northern Ireland Only

Great Britain

Cost is €10
UK shipping fee covers parcels up to a total weight of 20Kg
Western Europe

Note: There is no free delivery for Western Europe Deliveries
Bulk Bags & Large Item Pallet Deliveries
Bulk bags & large orders are shipped via pallet couriers on a rigid lorry
Delivery is to kerbside only
If road access to your site is tight, then please advise us before purchasing
Please Note: We cannot guarantee next day delivery on pallet deliveries
Also, we cannot guarantee delivery on a specific day (Please allow 1-3 days for delivery)
It's always best to order well in advance to avoid disappointment
Cancellation of pallets when items are already in transit will incur a 40 euro per pallet cancellation fee (To cover return delivery costs)
Where pallet delivery can not be made due to site access, a 40 euro per pallet cancellation fee will apply (To cover return delivery costs)
International Delivery Prices & Times
Please note max weights below, heavier orders may require additional payment
We will contact you to discuss, if max weight of order exceeded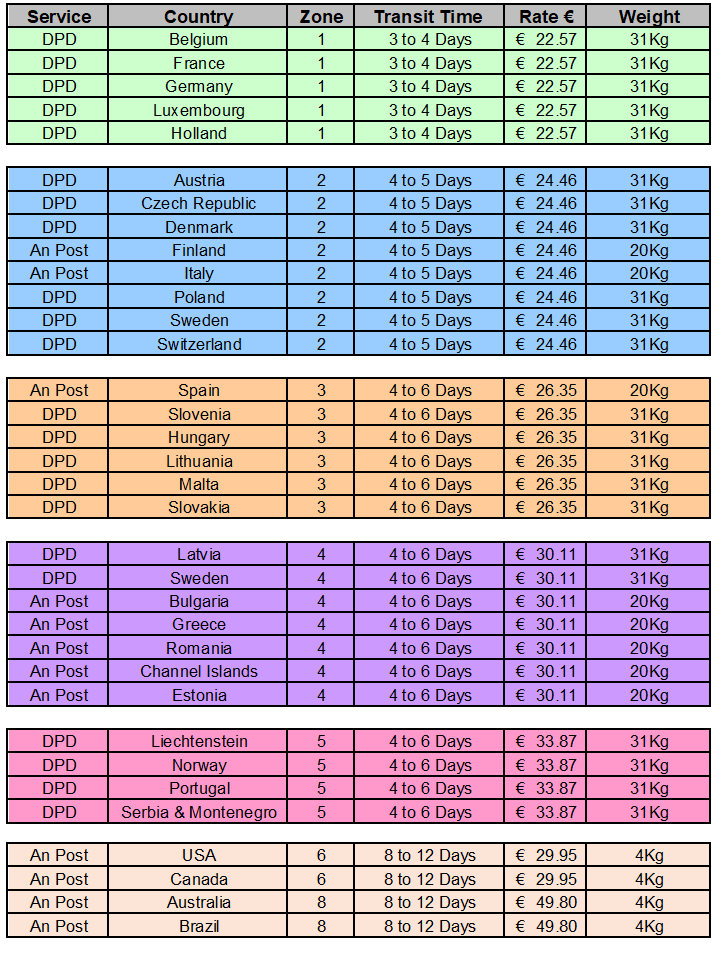 Terms
The shipping fee is fixed for an order, regardless of the number of items bought
All courier orders require signed proof of delivery & the customer must be contactable by phone
We do not offer a weekend delivery service (Mon-Fri Only excl. Bank Holidays)
* Our courier achieves a 98% success rate on next day deliveries
** Seed postal option applies to seed ONLY orders & is available in all 32 counties of Ireland
*** Does not apply to seed potatoes, bulbs or sets