Next day delivery available on most products. Order before 4pm Mon-Thurs.

2 Tone Hanging Basket - Description
2 Tone Round Bottom Hanging Basket
Diameter: 30cm (12 Inches)
Height: 16cm (7 Inches)
Basket Material

Woven Brown & Cream Rope
Steel Wire Frame
Lined With Plastic

Colours: Brown With Cream Trim
Chains: 3 x Chains (Terminates in a Hook)
Note: Pierce Several Drainage Holes in Base of Liner Before Use
2 Tone Hanging Basket - Uses
Hanging baskets are ideal for giving an instant blast of colour to your garden. Normally used with the following flowers...

Geraniums, Petunias, Gypsophila, Hoya, Polyanthus Begonias, Verbena, Lobelia, Bidens, Busy Lizies, Fuschias & more

Could also sow savoury herbs such as Mint, Thyme, Basil, Oregano, Lemon Balm, Chocolate Mint etc..
2 Tone Hanging Basket - Advantages
This is an attractive hanging basket - with blend of cream & brown colours
It comes with chains for hanging the basket
12 inch basket is a popular size
Soil can be added directly into the basket
The wire frame gives good strength and long life to the hanging basket
Hanging baskets give a great blast of instant colour to your garden
Equally when foliage is past its best, it can be simply replaced with fresh sown flowers
A well selected and watered hanging basket can last for the entire Summer
How to Plant & Where to Hang Your Basket
See how to grow tab for full instructions with videos & tips
Index
What you will need
Choose your compost
Preparing the hanging basket
Positioning the plants
Once planted
Where to position the hanging basket
Plants for a spring hanging basket
Plants for a summer hanging basket
Plants for a winter hanging basket
Spring / Summer Hanging Basket
Winter Hanging Basket
What you will need
A hanging basket

e.g. a wire frame, rattan or wicker material
30, 35 or 40cm (12, 14 or 16")
Use a moss hanging basket liner to retain soil

For a 12" hanging basket choose a 12" basket liner
Push the liner into the basket & tidy up the edges
Choose your compost
A peat free compost is better for hanging baskets as it dries out less quickly
Preparing you basket
A good tip is to place your basket on a bucket to prevent it moving or falling over
Begin by adding some compost to your basket
Next add a water retaining mat to minimise the need for watering
Then add some more compost & start positioning your plants
Positioning the plants
Start with the largest plants
Place these in the centre or towards the back of the basket
Then choose the medium sized plants & position
Finally add the trailing plants & place these over the front & sides of the basket
Once planted
Add more compost & press plants in well
Add a slow-release fertiliser
Water basket & place in a greenhouse until plants are established
Where to position your basket
Pick a location that maximises the impact of the basket - but try to avoid a full sun or full shade locations
Make sure the wall bracket and bolts are strong enough to support the basket
Good plants for a summer basket
Geraniums, Petunias, Verbenas, Lobelias, Begonias & Fuchsias
Good plants for a spring basket
Pansies, Violas, Ivys, Arabis, Aubrietia, & Alyssum
Good plants for a winter basket
Greens & Berries with Pine, Trailing Ivy, Cyclamen, Skimmias, Junipers & Box
FINAL NOTE: Water regularly (daily if necessary) - ideally using a long reach water wand - for easy and effective watering
Here at TheGardenShop.ie we aim to provide a fast, reliable & low cost delivery service
Shipping Options & Rates
Standard Courier Delivery With Fastway (2-4 Working Days)

Cost is €4.95 on Orders Below €75
Free Delivery on Orders Above €75
Rep. of Ireland & Northern Ireland Only

Express Courier Delivery With Fastway (1-2 Working Days)

Cost is €2.50 extra for express delivery
This service guarantees that any order placed before 4pm will ship from our depot the same day on the next day delivery service *
Rep. of Ireland & Northern Ireland Only

Express Delivery With DPD (1-2 Working Days)

Cost is €3 extra
This service guarantees that any order placed before 4pm will ship from our depot the same day on the next day delivery service *
Rep. of Ireland & Northern Ireland Only
This services comes with text alerts and timed delivery slots which the customer can change to suit themselves

'Seed' Postal Delivery Option ***

Cost is €2 - Packet of Seeds ONLY Orders
Note: Does Not Apply to Seed Potatoes, Bulbs or Sets ***
Rep. of Ireland & Northern Ireland Only

Great Britain

Cost is €10
UK shipping fee covers parcels up to a total weight of 20Kg
Western Europe

Note: There is no free delivery for Western Europe Deliveries
Bulk Bags & Large Item Pallet Deliveries
Bulk bags & large orders are shipped via pallet couriers on a rigid lorry
Delivery is to kerbside only
If road access to your site is tight, then please advise us before purchasing
Please Note: We cannot guarantee next day delivery on pallet deliveries
Also, we cannot guarantee delivery on a specific day (Please allow 1-3 days for delivery)
It's always best to order well in advance to avoid disappointment
Cancellation of pallets when items are already in transit will incur a 40 euro per pallet cancellation fee (To cover return delivery costs)
Where pallet delivery can not be made due to site access, a 40 euro per pallet cancellation fee will apply (To cover return delivery costs)
International Delivery Prices & Times
Please note max weights below, heavier orders may require additional payment
We will contact you to discuss, if max weight of order exceeded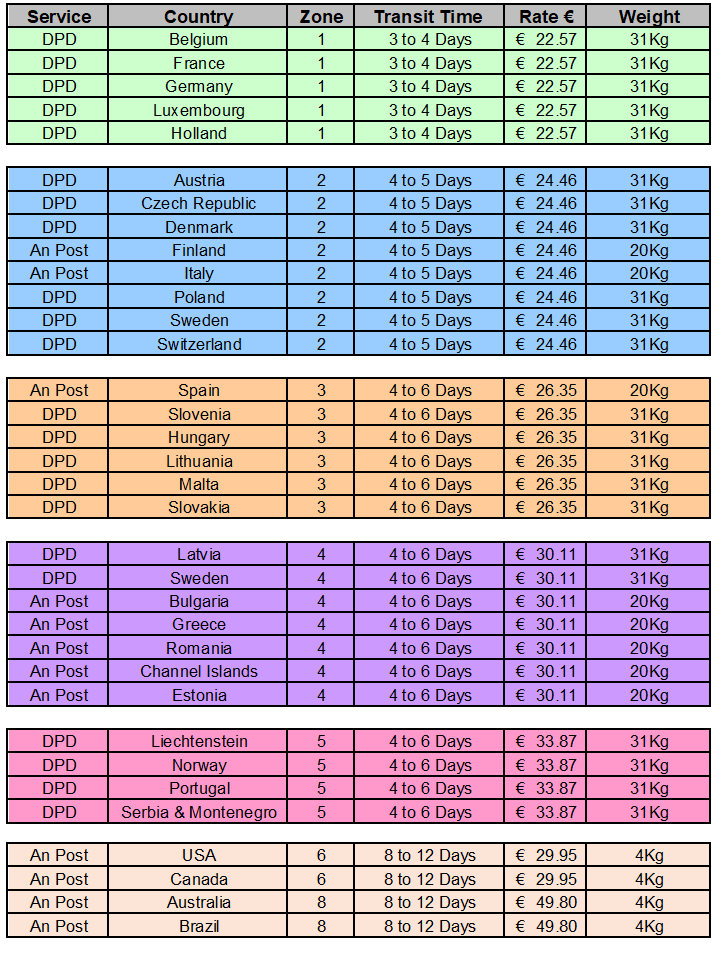 Terms
The shipping fee is fixed for an order, regardless of the number of items bought
All courier orders require signed proof of delivery & the customer must be contactable by phone
We do not offer a weekend delivery service (Mon-Fri Only excl. Bank Holidays)
* Our courier achieves a 98% success rate on next day deliveries
** Seed postal option applies to seed ONLY orders & is available in all 32 counties of Ireland
*** Does not apply to seed potatoes, bulbs or sets