Herbaceous Borders Planting Plan
Herbaceous borders will offer great colour in our garden from early Summer to late September. If you like the sound of that then you should certainly include these beds in your garden. Herbaecous borders will require a good deal more maintenance than a border of shrubs & trees. Flowering perennials require more care including feeding, weeding & cutting back during the year.
A herbaceous bed requires a sunny spot to perform well. Also good & fertile soil will ensure your flowers put on their best show all Summer long. When creating the scheme here, we added plenty of well rotted horse manure to the beds to increase the soil fertility. The manure was dug in & soil loosened to allow for good root establishment.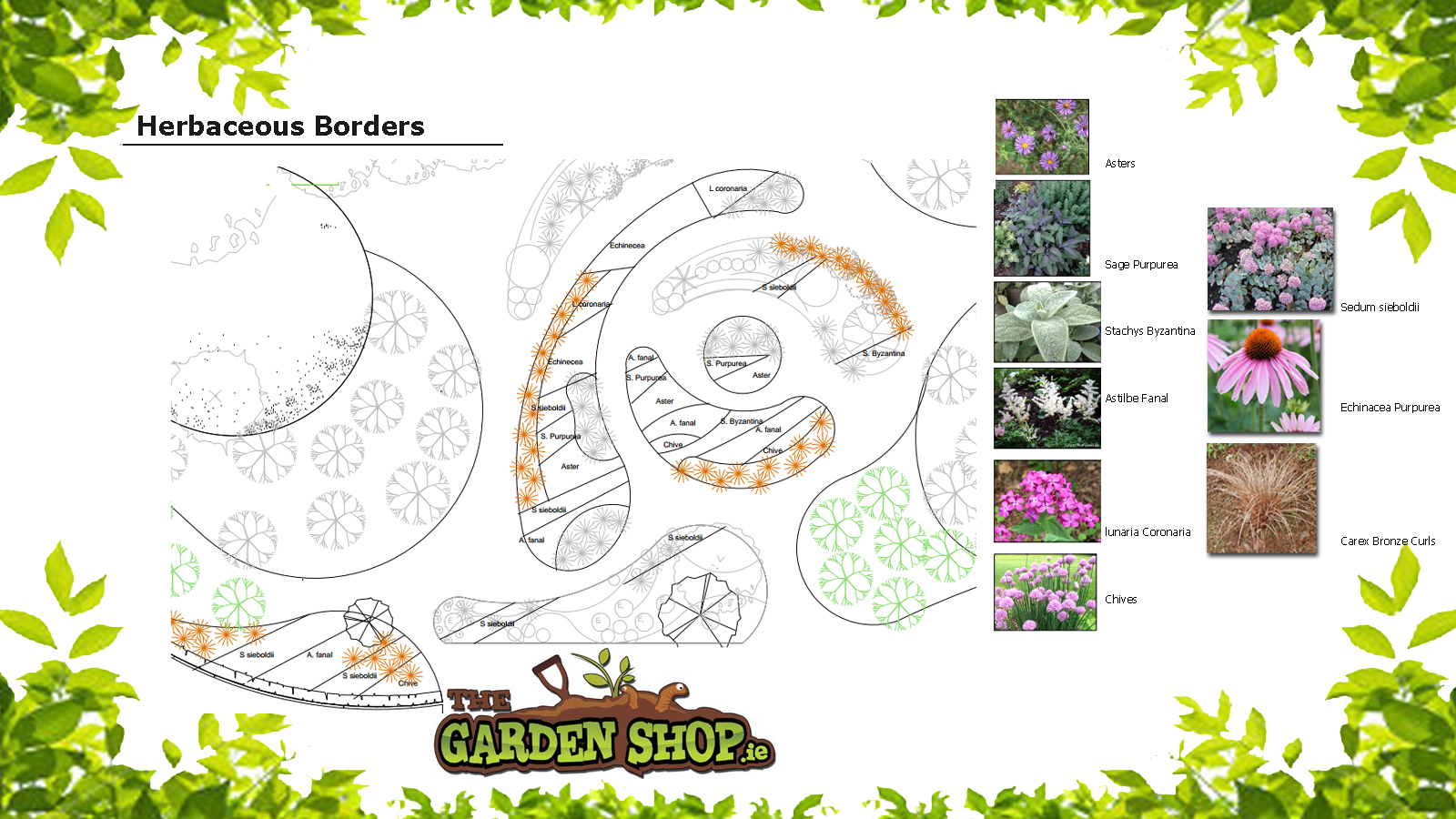 Note: Click image to open larger version in new tab/window
A lawn runs in between the herbaceous beds. To ensure that this lawn would be easy to cut, the beds were marked out and created using a ride on lawn mower. This was so that we knew a ride on mower could still cut the grass once the beds were in position.
The colour theme of this scheme was purple & bronze. The design of the beds, as you can see from the plan is a series of curved lines around a centre point. While the beds centre around the middle of the garden, there is also a series of same planting running diagonally across the site.
The garden is also on a slight slope with the planting at the top of the plan being higher than that at the bottom of the plan. This allows for an excellent view of the entire flowering scheme from the home.
When planting this scheme the grasses should be positioned & planed first. Then the next most relevant plants in order would be as follows...
Asters
Sedums
Sage
Stachys
Astilbes
These are most relevant because these are the structural plants of the scheme. These should be carefully positioned to ensure the garden has year round structure. Finally you can position & plant the tall flowering plants such as the following...
Echineacea
Alliums
Lunaria