Next day delivery available on most products. Order before 4pm Mon-Thurs.

Natural Sandstone Paving - Description
Natural Sandstone Paving
Colour: Camel Dust
Surface Finish: Riven / Natural
Camel Dust Colour Tones Include: Browns, Bronze, Coppers, Rusty Reds & Light Pink
Mixed Pallet of 3 Sizes

300 x 300mm
300 x 600mm
600 x 600mm

Total Area: 10m2
Depth of Flagstones: 22mm
IMPORTANT: This Product is dispatched from Dublin so it costs a little more to deliver to the rest of Ireland
Please choose whether you live in Dublin or the rest of the country in the delivery options above
Natural Sandstone Paving - Delivery - Please Read!
Bulk bags & large orders are shipped via pallet couriers on a rigid lorry
Delivery is to kerbside only
If road access to your site is tight, then please advise us before purchasing
Please Note: We cannot guarantee next day delivery on pallet deliveries
Also, we cannot guarantee delivery on a specific day (Please allow 1-3 days for delivery)
It's always best to order well in advance to avoid disappointment
Cancellation of pallets when items are already in transit will incur a 40 euro per pallet cancellation fee (To cover return delivery costs)
Where pallet delivery can not be made due to site access, a 40 euro per pallet cancellation fee will apply (To cover return delivery costs)
Natural Sandstone Paving - Uses
Soft, earthy colours for a natural patio or path
Camel dust works in all garden styles & looks
Ideal for a traditional garden
Suited to a random laid pattern
Camel dust looks great with reclaimed brick walling
Natural Sandstone Paving - Advantages
Calibrated thickness for ease of laying flagstones
Earthy colour tones works in most garden settings
Natural stone paving - will last for many years
Free nationwide delivery on all orders
Very weather resistant & frost resistant
Suited to both internal & external applications
Resistant to frost & air pollution
Natural Sandstone Paving - Delivery
All our Indian sandstone is delivered for free anywhere in Ireland
We have a minimum order of 10m2
The first step in the construction & laying of a patio is the preparation of the base or foundation. For a patio that will stand the test of time, a solid foundation is required. The depth & construction of your foundation will depend on the type of flag used & the end purpose for the patio. Taking the time to get the foundation right is essential & will ensure that the rest of the process goes smoothly.
3 determining factors for your foundation

Use or traffic. If the patio will be driven over, then a deeper sub base & foundation will be required. A sub base greater than 100mm is required
Material. If you are using natural stone, it is recommend to lay the flags on a wet concrete mix
Calibrated stone. If you are using man-made stone or calibrated natural stone then you can lay your patio on a screeded bed of sand
Total depth of the foundation that you need to excavate = width of paving + Bedding Layer + sub base. Area excavated should be slightly larger than area to be paved

Types of foundation
Sub bases for patios that will be driven on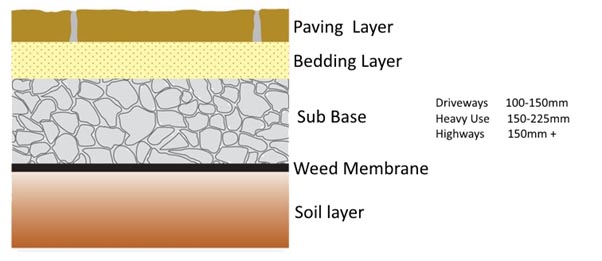 Sub bases for patios are using un-calibrated natural stone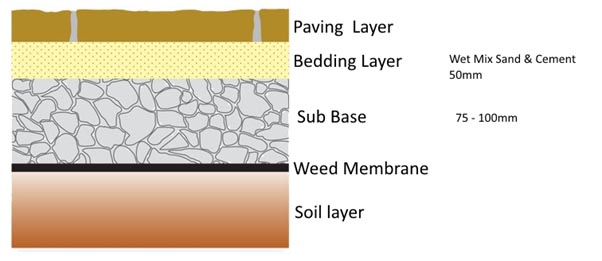 Sub bases for Patios are using calibrated natural stone or man-made paving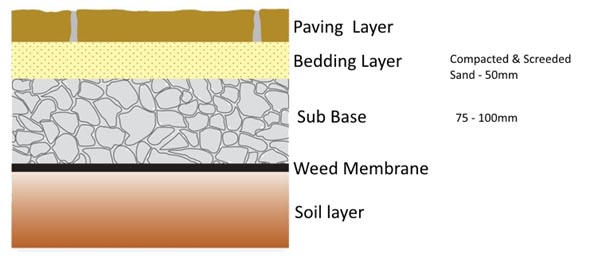 Materials to use in the preparation of your foundation
Sub Base
804, hardcore, crusher run/ crusher stone or crushed stone should be used for the sub base. The general rule of thumb is that the depth of this layer should be at least twice the depth of the largest particle size. This layer needs to be compacted after spreading, see above for ideal depths.
Coverage: 1 tonne of 804 covers approx 10 m² @ 75mm compacted thickness

Dry Mix Bedding Layer
Also known as the screed or sand layer, this is the layer that the paving flags are laid directly on to, the bedding layer needs to give you a level surface & allow for good drainage.

For calibrated paving you can use grit sand (3mm), sharp sand (3mm) or horticultural sand (5mm)
This bedding layer is compacted and screeded to achieve a flat bed on which you are laying your flags. The depth & level of the screed bed is achieved using screed rails & a screeding board.
A screeded bed is typically established approximately 5-10mm high, and the paving then compacted down to the required level.
Coverage: 1 tonne of 3mm Grit Sand covers approx 10 m² @ 50mm compacted thickness

Wet Mix Bedding Layer
For natural stone, use wet mix concrete, also called mortar. The most commonly used mix for concrete is 6 parts grit sand, 1 part cement. Add water slowly to achieve the right consistency. The aim is to achieve a 'slump' that is the same consistency as a bricklaying mortar or 'whipped cream'. The ratio of each will determine the strength of the mortar. For best results and on large paving jobs you will need a cement mixer.
Coverage: 1 tonne of wet cement will cover approx. 9 m²

Laying flags
Paving flags need to be handled with care and should be lowered carefully into position. Lower the flag onto the screed bed and into position then tap down on the flag on all four corners, compacting down the flag. Asses each flag for height & ensure that they are sitting flat & not 'rocking'.
To avoid disturbance of sand layer avoid excessive walking on sand. Continue to use string line and spirit level to maintain 'level' flags. Note: all paving should slope away from buildings.

After laying flags
Once all the flags are in place a haunching should be installed to the edge of the patio. Haunching prevents flags from being 'pushed' out of alignment by the weight placed on pavement. You can use the same bedding mix concrete to construct haunchings. As a rule of thumb the haunching concrete should be at least the width of the edging it is supporting.
Compact and smooth the haunching concrete with the back of a trowel or spade.
Lastly, point up between paving flags using mortar mix taking care not to get mortar on new paving flags. Sharp Sand is used instead of mortar on block paving.


Note: We don't ship plants on Fridays due to the extended period they would remain without light & water
Here at TheGardenShop.ie we aim to provide a fast, reliable & low cost delivery service
Shipping Options & Rates
Standard Courier Delivery With Fastway (2-4 Working Days)

Cost is €4.95 on Orders Below €75
Free Delivery on Orders Above €75
Rep. of Ireland & Northern Ireland Only

Express Courier Delivery With Fastway (1-2 Working Days)

Cost is around €5 extra for express delivery
This service guarantees that any order placed before 4pm will ship from our depot the same day on the next day delivery service *
Rep. of Ireland & Northern Ireland Only

Express Delivery With DPD (1-2 Working Days)

Cost is €3 extra
This service guarantees that any order placed before 4pm will ship from our depot the same day on the next day delivery service *
Rep. of Ireland & Northern Ireland Only
This services comes with text alerts and timed delivery slots which the customer can change to suit themselves

'Seed' Postal Delivery Option ***

Cost is €2 - Packet of Seeds ONLY Orders
Note: Does Not Apply to Seed Potatoes, Bulbs or Sets ***
Rep. of Ireland & Northern Ireland Only

Great Britain

Cost is €10
UK shipping fee covers parcels up to a total weight of 20Kg
Western Europe

Note: There is no free delivery for Western Europe Deliveries
Bulk Bags & Large Item Pallet Deliveries
Bulk bags & large orders are shipped via pallet couriers on a rigid lorry
Delivery is to kerbside only
If road access to your site is tight, then please advise us before purchasing
Please Note: We cannot guarantee next day delivery on pallet deliveries
Also, we cannot guarantee delivery on a specific day (Please allow 1-3 days for delivery)
It's always best to order well in advance to avoid disappointment
Cancellation of pallets when items are already in transit will incur a 40 euro per pallet cancellation fee (To cover return delivery costs)
Where pallet delivery can not be made due to site access, a 40 euro per pallet cancellation fee will apply (To cover return delivery costs)
International Delivery Prices & Times
Please note max weights below, heavier orders may require additional payment
We will contact you to discuss, if max weight of order exceeded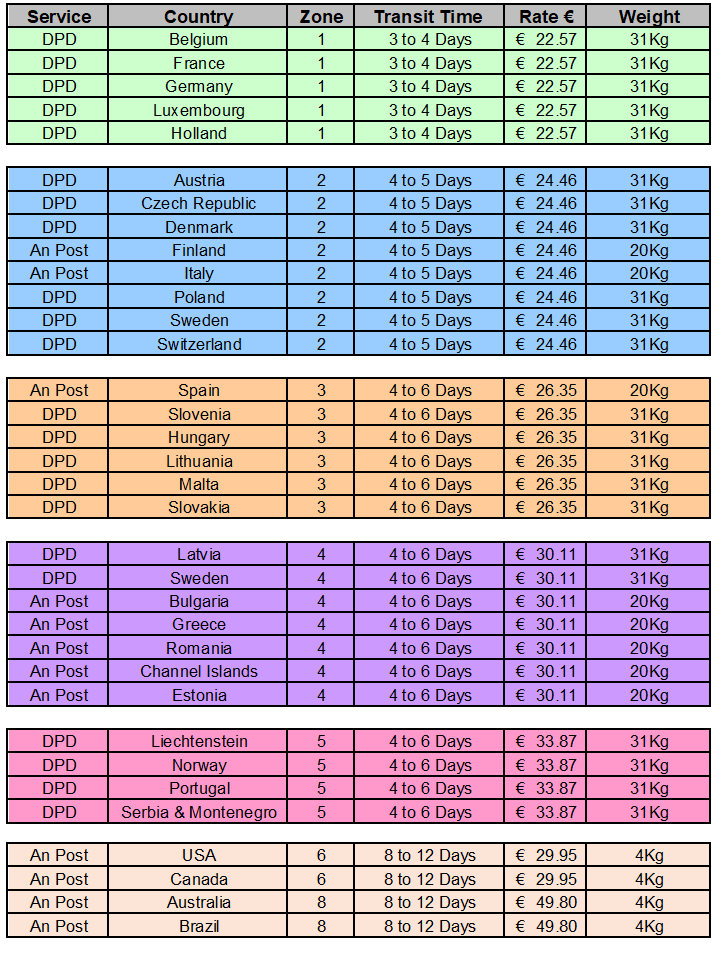 Terms
The shipping fee is fixed for an order, regardless of the number of items bought
All courier orders require signed proof of delivery & the customer must be contactable by phone
We do not offer a weekend delivery service (Mon-Fri Only excl. Bank Holidays)
* Our courier achieves a 98% success rate on next day deliveries
** Seed postal option applies to seed ONLY orders & is available in all 32 counties of Ireland
*** Does not apply to seed potatoes, bulbs or sets