Best Plants For Pollinators
With growing concern for our bee populations, we should all focus on increasing the number of pollinator attracting plants in our gardens. These are a selection of plants that produce the highest amount of nectar & are therefore very popular plants for our bees. These plants, in general, often also produce the best floral display with dizzying array of colour that draws in the bee.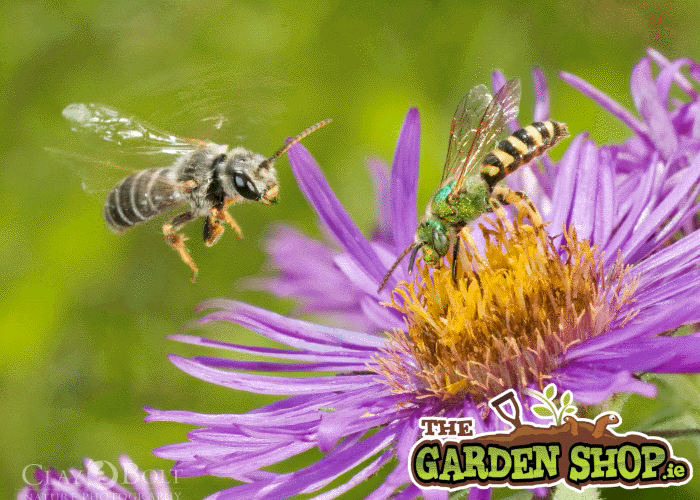 Of course - if you want to help our bees, then just planting the plants below is not enough, you will also need to ensure to cut out the use of pesticides and approach gardening & plant care in a chemical free way.
Some general rules when choosing plants that are bee friendly
Plants with big open flowers are best
Avoid 'double blooms' such as many Daffodils & Tulips
Trailing raceme flower heads are great for bees, plants such as Laburnum & Wisteria
Flat head flowers such as Verbena or Sedums & globular or spherical flowers such as V. Opulus or Primula denticulata

Remember to choose plants for year round flowering
Add a mixture of different heights
Plant trees & taller bushes that flower

Sweet William (Dianthus barbatus) Brightly coloured blooms makes this a very attractive plant for bee & humans alike. These biennial flower offers a range of pinks, red & white blooms throughout the Summer months.

English Lavender (Lavandula Agustifolia) The cluster of blooms on English Lavender is great for bees.

Verbena The flat & tall flower heads of verbena make this ideal for bees.
Butterfly Bush (Buddleja) These plants are alive with bees in mid Summer. Their long dropping flower heads are packed full of small blossoms for bees.

Hyssop It is believed that beekeepers would rub their hives with the hyssop plant to attract bees. The scent of Hyssop is great for attracting bees.

Wild Garden Plants

Hawtorn (Creatgus Monogyna) This is one of the most common plants found across Ireland. These plants can be grown here with ease & absolutely no need to treat with chemicals making them a great sanctuary for bees.

Clover (Trifolium repens) While the flowers can appear inconspicuous, clover is regularly frequented be the honey bee as it produces high yields of nectar especially in the warmer months of the year, from June to late July.

Yarrow Yarrow, like verbena has tall & open flower heads which make accessing the pollen very easy.

Foxgloves (Digitalis) The flower pattern of foxgloves looks like a landing strip for bumblebees that can then crawl up inside the tubular flower to reach the pollen.

Guelder Rose (Viburnum Opulus) The globular or spherical blooms of Guelder Rose make reaching the nectar easy & therefore making Viburnum Opulus a popular plant for bees. For attracting bees in the Winter months we suggest growing Viburnum Tinus.

Other Great Plants For Bees

Aubretia
Berberis
Calluna & Erica heathers
Cotoneaster
Cytisus / Broomo
Echinacea / Coneflower
Hebe
Helianthus
Hypericum / St Johns Worth
Impatiens / Buzzy Lizzies
Kniphofia / Red hot pokers
Lace Cap Hydrangea
Lamium / Dead nettles
Lilium / Lilles
Mahonia
Nepeta / catmint
Philadelphus
Poppies
Pyracantha
Ribes
Rosemary & Thyme
Snowdrops for their early flowers
Wild geraniums
Wild Rose