Next day delivery available on most products. Order before 4pm Mon-Thurs.

Potted Bamboo Plant - Description
Potted Bamboo Plants
Fargesia Robusta 'Pingwu'
Commonly Called 'The Fountain Bamboo'
Popular Bamboo With Dark Purple/Green Canes
Takes Approx. 3 Years For Dark Colour to Form
Clump Forming Bamboo - Non Invasive
Tall, Upright Bamboo Plant
Mature Size: 2.5m
Current Plant Size: 80 - 100cm
Pot Size: 5 Litres
Potted Bamboo Plant - Characteristics
Excellent stem details
Strong upright growth
Glossy green, narrow leaves
Clump forming - Won't spread or become invasive
Max spread: 1.5m
These plants are happy in shade
Foliage: Narrow, grass-like foliage, 15cm in length
Final Height: 2.5m
Evergreen bamboo plant
Habit: Clump forming, tall Bamboo plant
Spacing: 2m apart
Grow rate: Fast
Potted Bamboo Plant - Care
Happy in clay or loam soils
Position in sun or shade
Water well after planting
Potted Bamboo Plant - Uses
Bamboo plants are great for screening
Can be grown in pots
Very popular for hedging & screening
Plants are fast growing & evergreen
Tall & narrow, is ideal against walls & boundaries
Excellent specimen & architectural plant
Suited to coastal areas
Can be used as an informal hedge
Bamboo companion plants include Acer Palmatum, Grasses, Kerria Japonica, Phormiums
Planting Large Garden Shrubs
Containerised garden shrubs can be planted any time of year, however the best time for any garden planting is between the months of September & March as this is the dormant season and the time when garden shrubs are not actively growing. The process of planting shrubs can start right back at the design phase when we choose the best plants for our garden.

Below is a quick guide on how to plant large shrubs to ensure they get the best start & give maximum results in the garden.

Planning
Planning your borders is an important process & it will ensure that you make the right choice when buying plants. When you plan your garden's planting layout, you should choose & position plants in the following order.
Large & structural plants
Architectural & focal point plants
Medium & decorative plants
Small & ground cover plants
Infillers & herbaceous plants
Large plants are chosen & positioned first because these will form the structure & backbone to your flower beds. These large garden shrubs create the divisions, boundaries, privacy & year round form to your garden & borders.
As well as choosing these plants first at the design stage, these large shrubs are also positioned in the garden first. The position, shape & size of these plants will determine your decision making on all other plants that follow.
Once you are happy with the choice and position of your larger plants you can move on to planting & preparing your soil.
Preparing Your Soil
To ensure your plants settle in quickly & start growing as soon as possible, it is important to handle your plants carefully & provide your plants with the best soil & growing conditions. Your plants will need water, light, nutrients & space to grow and to ensure they get this you should improve your soil & allow sufficient space between plants.
Start by digging your planting hole. This hole should be roughly twice the width of the plant's container & 1½ times its depth. Plant roots like to grow downwards, so to encourage this you can loosen up the soil in the base of the planting hole with a garden fork. If your soil is sandy, stony or very shallow then you will need to dig an even bigger hole & back fill with rich loam topsoil.
Once the hole is dug, add a small amount of john Innes No. 3 compost or add farm yard manure and mix it through the existing soil. At this point you can also add a small amount of fertiliser, for large plants you can add 70 grams of growmore plant food.
Planting
Handling your plants with care is very important. Your plants will already be experiencing the shock of being moved which will lead to a stunt in plant growth. So any additional stress caused to the plants at this point should be avoided.
If your plants are dried out, it is essential that you soak the root ball for 10 minutes before planting. To do this you can fill a bin or very large bucket with water and push the plant's rootball & container down into the water. While the plant is soaking, you can prepare the planting hole as mentioned above.
Carefully lift the plant from its pot, gently 'tickle' the plant's root ball to free up the roots and encourage them to start growing outwards. Next, you need to determine the plant's best side and then position the plant in the hole.

Before back filling, ensure the plant is both level vertically & also level with the surrounding ground. It is very important to not plant a shrub too deep (will lead to stem rot) or too shallow (can lead to poor establishment & root ball drying out). Once you are happy you can back fill the soil & then press the soil in well with a strong tap of your foot.
Aftercare
The immediate after care of your plant is simply to water it in. Keep an eye on the plant for the first few months & make sure the soil never dries out. In very warm Summers you will need to water in new plants every 2 to 3 days.
If there are any bamboo canes or supports with the plants these need to be loosened now. Feed your plants every Spring & make mulch in Winter to keep your plant insulated & free from weeds.

Note: We don't ship plants on Fridays due to the extended period they would remain without light & water
Here at TheGardenShop.ie we aim to provide a fast, reliable & low cost delivery service
Shipping Options & Rates
Standard Courier Delivery With Fastway (2-4 Working Days)

Cost is €4.95 on Orders Below €75
Free Delivery on Orders Above €75
Rep. of Ireland & Northern Ireland Only

Express Courier Delivery With Fastway (1-2 Working Days)

Cost is around €5 extra for express delivery
This service guarantees that any order placed before 4pm will ship from our depot the same day on the next day delivery service *
Rep. of Ireland & Northern Ireland Only

Express Delivery With DPD (1-2 Working Days)

Cost is €3 extra
This service guarantees that any order placed before 4pm will ship from our depot the same day on the next day delivery service *
Rep. of Ireland & Northern Ireland Only
This services comes with text alerts and timed delivery slots which the customer can change to suit themselves

'Seed' Postal Delivery Option ***

Cost is €2 - Packet of Seeds ONLY Orders
Note: Does Not Apply to Seed Potatoes, Bulbs or Sets ***
Rep. of Ireland & Northern Ireland Only

Great Britain

Cost is €10
UK shipping fee covers parcels up to a total weight of 20Kg
Western Europe

Note: There is no free delivery for Western Europe Deliveries
Bulk Bags & Large Item Pallet Deliveries
Bulk bags & large orders are shipped via pallet couriers on a rigid lorry
Delivery is to kerbside only
If road access to your site is tight, then please advise us before purchasing
Please Note: We cannot guarantee next day delivery on pallet deliveries
Also, we cannot guarantee delivery on a specific day (Please allow 1-3 days for delivery)
It's always best to order well in advance to avoid disappointment
Cancellation of pallets when items are already in transit will incur a 40 euro per pallet cancellation fee (To cover return delivery costs)
Where pallet delivery can not be made due to site access, a 40 euro per pallet cancellation fee will apply (To cover return delivery costs)
International Delivery Prices & Times
Please note max weights below, heavier orders may require additional payment
We will contact you to discuss, if max weight of order exceeded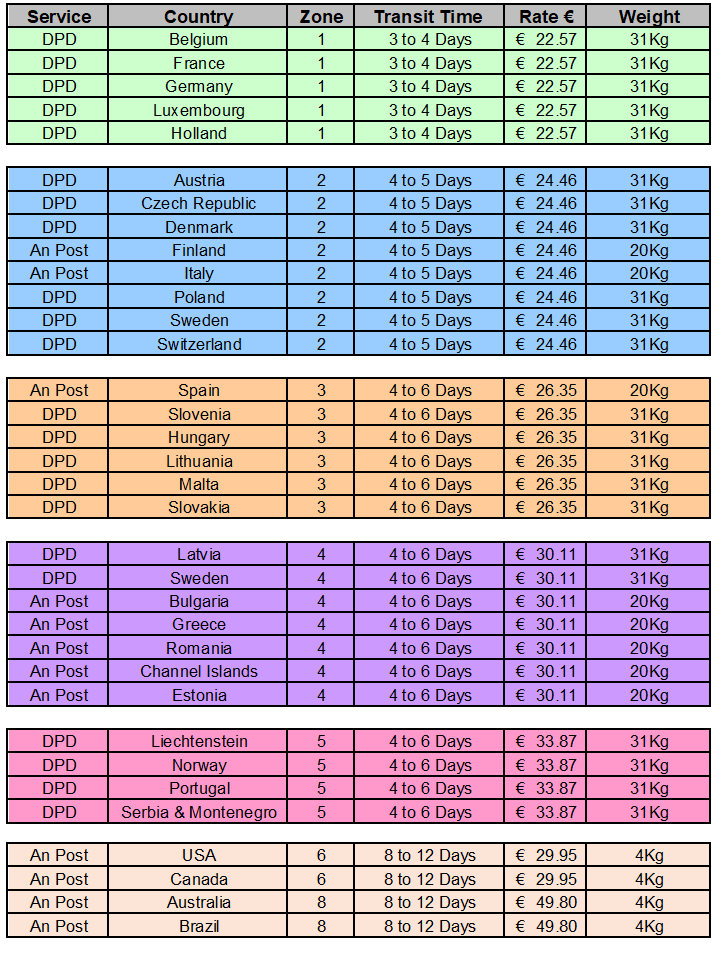 Terms
The shipping fee is fixed for an order, regardless of the number of items bought
All courier orders require signed proof of delivery & the customer must be contactable by phone
We do not offer a weekend delivery service (Mon-Fri Only excl. Bank Holidays)
* Our courier achieves a 98% success rate on next day deliveries
** Seed postal option applies to seed ONLY orders & is available in all 32 counties of Ireland
*** Does not apply to seed potatoes, bulbs or sets