Next day delivery available on most products. Order before 4pm Mon-Thurs.
Quartzite Setts - Description
Sawn Edge Quartzite Setts
Also Called Quarzite Block Paving
Sett Dimensions: 100 x 200mm (Approx. 4 x 8 Inches)
Sett Thickness: 40 - 60mm
Number of Cobbles: 150 Setts
Natural Stone Setts
Colour Tones: Blend of Warm Colour Tones of Golden Brown to Greyish Blue
Irish Stone: Quarried in Donegal
Finish: Smooth Surface
Total Area: 3m2
Total Linear Coverage: 15 Linear Metres (Edging 200mm in Width)
IMPORTANT: This Product is dispatched from Dublin so it costs a little more to deliver to the rest of Ireland
Please choose whether you live in Dublin or the rest of the country in the delivery options above
Quartzite Setts - Delivery - Please Read!
Crates of paving & large orders are shipped via pallet couriers on a rigid lorry
Delivery is to kerbside only
Note: A maximum of 12 Sq.m of quartzite setts can be shipping on one pallet / crate
If road access to your site is tight, then please advise us before purchasing
Please Note: We cannot guarantee next day delivery on pallet deliveries
Also, we cannot guarantee delivery on a specific day (Please allow 1-3 days for delivery)
It's always best to order well in advance to avoid disappointment
Cancellation of pallets when items are already in transit will incur a 40 euro per pallet cancellation fee (To cover return delivery costs)
Where pallet delivery can not be made due to site access, a 40 euro per pallet cancellation fee will apply (To cover return delivery costs)
Quartzite Setts - Uses
200m wide setts are ideal for edging flower beds & lawn
Can also be used as a patio area
Lay setts as an edging or detailing around flagstones
Lay in alternate or straight pattern for paving paths, patios & smaller seating areas
These real stone setts can create a natural stone patio that will last for many years
Quartzite setts look great with other natural stone paving such as Donegal Quartz Flags, Natural Indian Sandstone & Black Limestone
Quartzite Setts - Advantages
Sawn edge for a neat finish
Enormous flexural strength
Low water absorption
High thermal properties
Quartzite setts are resistant to frost & air pollution
A Little About Donegal Quartzite
Our quartzite stone comes from Donegal
This quartzite is one of the oldest & toughest metamorphic rocks
Donegal quartzite was originally sandstone
This sandstone was heated & compressed over time to form quartzite
This has given Donegal quartzite it's sandy colour
Note: We don't ship plants on Fridays due to the extended period they would remain without light & water
Here at TheGardenShop.ie we aim to provide a fast, reliable & low cost delivery service
Shipping Options & Rates
Standard Courier Delivery With Fastway (2-4 Working Days)

Cost is €4.95 on Orders Below €75
Free Delivery on Orders Above €75
Rep. of Ireland & Northern Ireland Only

Express Courier Delivery With Fastway (1-2 Working Days)

Cost is around €5 extra for express delivery
This service guarantees that any order placed before 4pm will ship from our depot the same day on the next day delivery service *
Rep. of Ireland & Northern Ireland Only

Express Delivery With DPD (1-2 Working Days)

Cost is €3 extra
This service guarantees that any order placed before 4pm will ship from our depot the same day on the next day delivery service *
Rep. of Ireland & Northern Ireland Only
This services comes with text alerts and timed delivery slots which the customer can change to suit themselves

'Seed' Postal Delivery Option ***

Cost is €2 - Packet of Seeds ONLY Orders
Note: Does Not Apply to Seed Potatoes, Bulbs or Sets ***
Rep. of Ireland & Northern Ireland Only

Great Britain

Cost is €10
UK shipping fee covers parcels up to a total weight of 20Kg
Western Europe

Note: There is no free delivery for Western Europe Deliveries
Bulk Bags & Large Item Pallet Deliveries
Bulk bags & large orders are shipped via pallet couriers on a rigid lorry
Delivery is to kerbside only
If road access to your site is tight, then please advise us before purchasing
Please Note: We cannot guarantee next day delivery on pallet deliveries
Also, we cannot guarantee delivery on a specific day (Please allow 1-3 days for delivery)
It's always best to order well in advance to avoid disappointment
Cancellation of pallets when items are already in transit will incur a 40 euro per pallet cancellation fee (To cover return delivery costs)
Where pallet delivery can not be made due to site access, a 40 euro per pallet cancellation fee will apply (To cover return delivery costs)
International Delivery Prices & Times
Please note max weights below, heavier orders may require additional payment
We will contact you to discuss, if max weight of order exceeded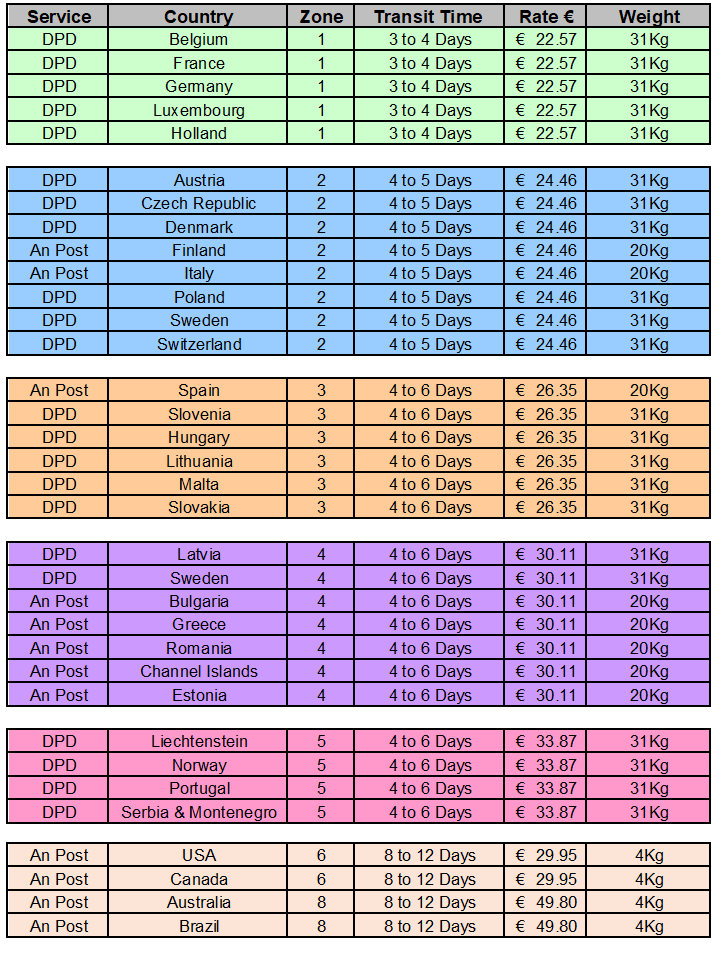 Terms
The shipping fee is fixed for an order, regardless of the number of items bought
All courier orders require signed proof of delivery & the customer must be contactable by phone
We do not offer a weekend delivery service (Mon-Fri Only excl. Bank Holidays)
* Our courier achieves a 98% success rate on next day deliveries
** Seed postal option applies to seed ONLY orders & is available in all 32 counties of Ireland
*** Does not apply to seed potatoes, bulbs or sets