Next day delivery available on most products. Order before 4pm Mon-Thurs.

Dwarf French Bean - Description
Red Coloured French Beans
Variety: Borlotto Tintoretto
Size of Packet: 50 Seeds
Highly Productive Variety
Pod Size: 16cm in Length
8 - 9 Beans per Pod
Pod Colour: Red with White Specks
Bean Colour: Creamy White with Red Stripes
Good Disease Tolerance
Resistant to BCMV
Unwins Seeds
Dwarf French Bean - Sowing Instruction
Sow: Under cover in February
Requires 16 to 20 degrees to germinate
Sow in trays or modules
Harvest: June to September
Pick beans regularly to keep the harvest coming
Use a wigwam or climbing post to aid climbing
See how to grow tab for full growing instructions
Climbing Bean - Uses
Can be eaten raw
Makes a crunchy Summer salad
Perfect for freezing
French Climbing Bean - Advantages
High return per space
Good reliable producer
Great taste
A prolific cropper
Cost effective
Great looking
Resistant to BCMV race 1
French Climbing Bean - Notes
Be careful not to underestimate it's cropping ability. Can produce en mass!!!!
Index
Sowing Instructions (Indoors)
How to Transplant
Sowing Outdoors
Crop Maintenance & How to Support
How to Harvest
Storage
Pests & Diseases
Sowing Instructions (Indoors)
Sowing Time: For an early harvest, you can grow your beans indoors in pots. Sow in January
Sowing Location: Choose a 9cm pot with drainage holes. Keep under glass in a bright & warm position
Sow using a general potting compost & perlite mix at 3:1
Water soil well before sowing, and keep pots or trays moist at all times
Sow 3 seeds per pot, thin later
Sow seeds approx 4cm deep
How to Transplant
Transplant outside just after the last frost
Usually mid / late April to mid May
These plants can be transplanted out in well manured soil
Harden off before planting out
Sowing Outdoors
French beans prefer a sunny, sheltered site
Ensure the weather is suitable and the soil has warmed up prior to sowing
Sowing Time: Sow out in mid May
Stagger planting times for a continual harvest
Sow in drills 15cm apart, sowing seeds 5cm deep
Make drills 30cm wide and sow seeds in a zig-zag pattern
Leave 20cm between drills
Soil: Moist, fertile soil is ideal
A light soil is most suitable, if your soil is heavy, it is recommended that you improve your soil's drainage by adding farm yard manure and digging and forking your soil to a depth of 1 and 1/2 feet
If possible, prepare soil in the previous autumn
Dig over soil and add plenty of organic matter before planting
Add about two shovels of farm yard manure to every square metre
It is recommended that you perform a soil fertility test at least once
Add lime to soil if your tests reveal that your soil is acidic
Crop Maintenance & How to Support
Protect Crop from slugs, especially when young
Provide a support frame for your bean crop early in the growing stages
You can use a bean & pea netting or create a bamboo wigwam support frame
Train plants around support frame
Begin feeding plants once flowers emerge
Keep moist at all times
How to Harvest
Can be ready for harvest from June onwards
Varieties such as cobra produce large crops
Pick daily and often to prevent from going to seed
Pick before you can see the bean shape inside
Cropping can continue until the first frosts
Cropping can be prolific
Storage
Will store in the fridge for short term
Can be frozen for up to 12 months in freezer bags
Freeze on a tray first and then place into bag
Pests & Diseases
Pests: Slugs
Damage: Eat foliage
Use copper slug tape and slug traps for protection
Other pests and diseases to look out for are aphids and halo blight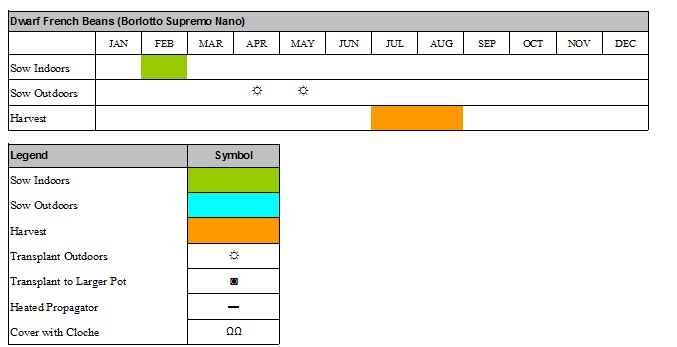 Due to increased volumes in orders, please allow additional time for delivery

Note: We don't ship plants on Fridays due to the extended period they would remain without light & water
Here at TheGardenShop.ie we aim to provide a fast, reliable & low cost delivery service
Shipping Options & Rates
Standard Courier Delivery With Fastway (3-5 Working Days)

Cost is €4.95 on Orders Below €75
Free Delivery on Orders Above €75
Rep. of Ireland & Northern Ireland Only

Express Courier Delivery With Fastway (2-3 Working Days)

Cost is around €5 extra for express delivery
This service guarantees that any order placed before 4pm will ship from our depot the same day on the next day delivery service *
Rep. of Ireland & Northern Ireland Only

Express Delivery With DPD (2-3 Working Days)

Cost is €3 extra
This service guarantees that any order placed before 4pm will ship from our depot the same day on the next day delivery service *
Rep. of Ireland & Northern Ireland Only
This services comes with text alerts and timed delivery slots which the customer can change to suit themselves

'Seed' Postal Delivery Option ***

Cost is €2 - Packet of Seeds ONLY Orders
Note: Does Not Apply to Seed Potatoes, Bulbs or Sets ***
Rep. of Ireland & Northern Ireland Only

Great Britain

Cost is €10
UK shipping fee covers parcels up to a total weight of 20Kg
Western Europe

Note: There is no free delivery for Western Europe Deliveries
Bulk Bags & Large Item Pallet Deliveries
Bulk bags & large orders are shipped via pallet couriers on a rigid lorry
Delivery is to kerbside only
If road access to your site is tight, then please advise us before purchasing
Please Note: We cannot guarantee next day delivery on pallet deliveries
Also, we cannot guarantee delivery on a specific day (Please allow 1-3 days for delivery)
It's always best to order well in advance to avoid disappointment
Cancellation of pallets when items are already in transit will incur a 40 euro per pallet cancellation fee (To cover return delivery costs)
Where pallet delivery can not be made due to site access, a 40 euro per pallet cancellation fee will apply (To cover return delivery costs)
International Delivery Prices & Times
Please note max weights below, heavier orders may require additional payment
We will contact you to discuss, if max weight of order exceeded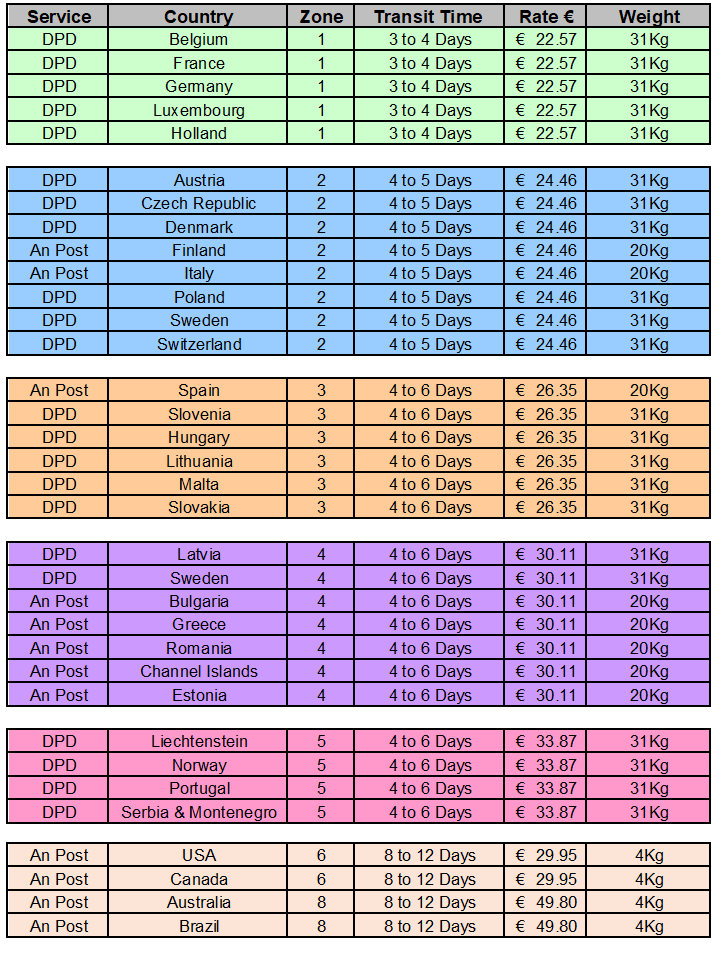 Terms
The shipping fee is fixed for an order, regardless of the number of items bought
All courier orders require signed proof of delivery & the customer must be contactable by phone
We do not offer a weekend delivery service (Mon-Fri Only excl. Bank Holidays)
* Our courier achieves a 98% success rate on next day deliveries
** Seed postal option applies to seed ONLY orders & is available in all 32 counties of Ireland
*** Does not apply to seed potatoes, bulbs or sets