Best Shrubs For Winter Colour in Your Garden
A bleak Winter's day can be turned on it's head with our selection of Winter wonders. There is no need to think of Winter as a lifeless time in the garden. Both plants and birds can add an array of sound and colour this time of year. See our list of the best & most reliable Winter flowering plants below.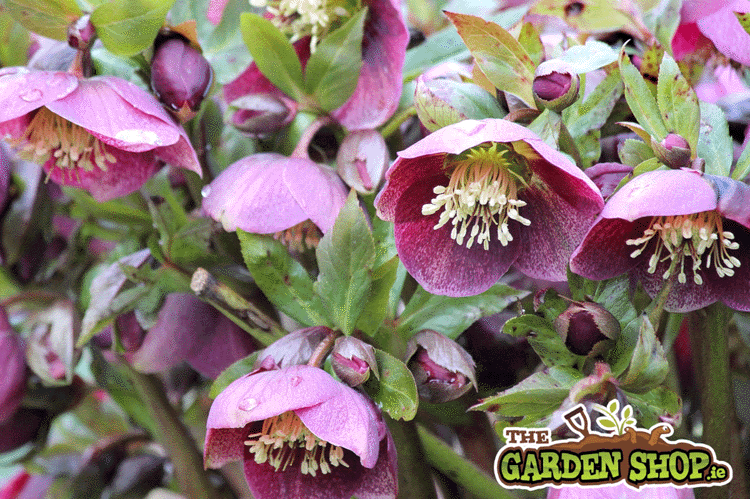 Click here for our range of plants for Winter colour
Mahonia x Media 'Charity'

Large, sprawling evergreen shrub with leathery leaves. Mahonias offer colour & scent throughout Winter in the form of long upward pointed spires of yellow blooms. Spreading 4m in width, these plants need space but are happiest in semi shade or underneath a deciduous tree. Flowering period: November to February

Daphne
Looking closely at it's flower, you would be surprised to find that Daphnes are Winter flowering. Their range of purple & pink blooms combine well with early flowering Cyclamen.
Daphne mezereum is a deciduous Daphne flowering in late Winter
Daphne laureola is an evergreen Daphne flowering in late Winter to early Spring
Viburnum Bodnantense Dawn
Many Vinburnum offer Winter colour but Bodnantense Dawn is certainly the stand out plant for it's clusters of pink petals which are dotted along it's deciduous stems. The name Bodnantense comes from Bodnant Gardens where the plant was raised. Flowering period: November to February
Witch Hazel
Hamamelis or Witch Hazel is another deciduous shrub for Winter colour & fragrance. It's a real show stopper in flower beds with it's intricate arrangement of narrow stems bearing long, ruffled yellow petals with a spider like appearance. Flowering period: Late December to March
Erica
Winter flowering heathers are a great addition to gardens & are most suited to the front of flower beds or in rockeries. unlike Summer varieties, Winter heather is happy in either slightly acidic or slightly alkaline soils. Flowering period: December to March
Helleborus
Also known as the Christmas Rose, Hellebores come in many colours for an excellent Winter display. Happy in a shaded spot, you may need to get down on your hands & knees to fully appreciate their splendour. Hellebore flowers are wonderfully detailed, but their drooping heads means that you can only see the back of their flowers if standing. Flowering period: January to March
Other Winter flowers to consider

Cyclamen
Aconites
Snowdrops
Hardy Primroses
There are also many trees with interesting Winter barks and combined with the low sunlight this time of year, truly spectacular displays can be achieved.