Next day delivery available on most products. Order before 4pm Mon-Thurs.
Strawberry Grow Bag - Description
Strawberry Planting Bag
Quantity: 1
Material: Tough & Durable Polypropylene
Dimensions:


Height: 45cm / 18 Inches
Diameter 38cm / 15 Inches

Volume of Bag: 60 Litres
Handles: 2 Strong Handles
Includes 6 Side Planting Pockets
Manufacturer: Garland
Perfect for Enjoying Home Grown Strawberries
Ideal for Garden, Patio or Balcony
Includes Strong Handles for Carrying
Can Plant From Top & Sides Using Side Planting Pockets
Folds Up When Not in Use
Drainage Holes: Yes
Colour: Green
Strawberry Grow Bag - Uses
This handy grow bag allows you grown your own strawberries at home
Can be used on a balcony, patio or veg plot
Compact, tiered design creates a vertical garden of strawberries, saving space
Can be used to grow other plants such as bedding plants or planted up like a hanging basket
Strawberry Grow Bag - Advantages
Solid & durable design
Clever product, maximises use of space of larger crops
Polypropylene material absorbs sunlight, warming soil within
Makes growing strawberries easy
Has two very sturdy handles for lifting
Lets people grow strawberries who don't actually have a garden
Much lower cost than similar strawberry grow bags on the market
Strawberry Grow Bag - Note
Strawberries grow best & ripen better in a warm greenhouse
Keep crops well mulched with straw to keep moist and prevent fruits from rotting
Strawberries are a real rewarding plant to grow in the garden. Their fragrance alone is enough to put you in a good mood and there is no better taste than a freshly picked strawberry, right out in the garden.
They grow by producing long runners which extend out from the parent plant and re-root in the ground. You can grow strawberries directly in the soil, but they are also suited to being grown in hanging baskets or specific strawberry planters.
In the midlands of Ireland they will require protection from early and late frosts so you will need to invest in a fleece or cloche to grow them.
Alternatively, grow them in pots and bring the pots indoors in frosty and cold conditions. If you don't want to be carry planters in and out then you can also grow your strawberries in greenhouses or polytunnels.
There are three types of strawberries to choose from, the early summer fruiting types, the perpetual fruiting types and wild strawberries.
Early summer varieties will only fruit for about 3 weeks. Varieties include 'Pegasus', 'Elsanta' & 'Alice'.
Perpetual varieties or 'Everberries' fruit in mid Summer and continue a fruit right until the first frost. 'Flamenco' is a good choice.
Wild strawberries produce small, sharp tasting fruits and are much more at home in our Irish climate and will grow in shade. However taste wise these do not compare to regular strawberries.
When to Grow Strawberries
Plant out September – November or mid March
You can buy transplants or plug plants of strawberries in early Spring and plant them directly out in the ground in mid March. However best results are achieved when plants are planted in September of the previous year as this gives the plant's roots a chance to develop. Strawberries are quiet hardy but in severe frost make sure you cover your rows with a fleece.
Where to Grow Strawberries
Sunny location, avoid frost pockets & wind
If you choose to grow your strawberries outdoors in the soil then choose a well sheltered spot, free of frost. In Winter the dormant strawberry plant can survive the cold but as they grow and flower in Spring they become very susceptible to the cold. Plant perpetual verities in March.
How to Plant Strawberries
Fertile, well draining soil. Space 30cm apart & rows 45cm apart
Prepare soil well before planting, adding well rotted farm yard manure. Ensure all of roots are below soil level but non of the runners are below soil level. Space each plant 30cm (12") apart and space rows 45cm (18") apart. Water plants in well.
Care of Strawberries
Keep moist, protect fruits with netting & mulch around base
Strawberries need to be kept moist until they establish a root system. Regular watering is required for the 1st few months after planting.
Keep plants free of weeds, weeding rows every two weeks and mulch up around the base of the plants with either compost, straw or plastic. Using straw is most beneficial as this will keep the fruits up off the ground and help to prevent fruits rotting.
Birds can be a real pest with strawberries, cover your crops using garden netting before fruits develop.
Note: We don't ship plants on Fridays due to the extended period they would remain without light & water
Here at TheGardenShop.ie we aim to provide a fast, reliable & low cost delivery service
Shipping Options & Rates
Standard Courier Delivery With Fastway (2-4 Working Days)

Cost is €4.95 on Orders Below €75
Free Delivery on Orders Above €75
Rep. of Ireland & Northern Ireland Only

Express Courier Delivery With Fastway (1-2 Working Days)

Cost is around €5 extra for express delivery
This service guarantees that any order placed before 4pm will ship from our depot the same day on the next day delivery service *
Rep. of Ireland & Northern Ireland Only

Express Delivery With DPD (1-2 Working Days)

Cost is €3 extra
This service guarantees that any order placed before 4pm will ship from our depot the same day on the next day delivery service *
Rep. of Ireland & Northern Ireland Only
This services comes with text alerts and timed delivery slots which the customer can change to suit themselves

'Seed' Postal Delivery Option ***

Cost is €2 - Packet of Seeds ONLY Orders
Note: Does Not Apply to Seed Potatoes, Bulbs or Sets ***
Rep. of Ireland & Northern Ireland Only

Great Britain

Cost is €10
UK shipping fee covers parcels up to a total weight of 20Kg
Western Europe

Note: There is no free delivery for Western Europe Deliveries
Bulk Bags & Large Item Pallet Deliveries
Bulk bags & large orders are shipped via pallet couriers on a rigid lorry
Delivery is to kerbside only
If road access to your site is tight, then please advise us before purchasing
Please Note: We cannot guarantee next day delivery on pallet deliveries
Also, we cannot guarantee delivery on a specific day (Please allow 1-3 days for delivery)
It's always best to order well in advance to avoid disappointment
Cancellation of pallets when items are already in transit will incur a 40 euro per pallet cancellation fee (To cover return delivery costs)
Where pallet delivery can not be made due to site access, a 40 euro per pallet cancellation fee will apply (To cover return delivery costs)
International Delivery Prices & Times
Please note max weights below, heavier orders may require additional payment
We will contact you to discuss, if max weight of order exceeded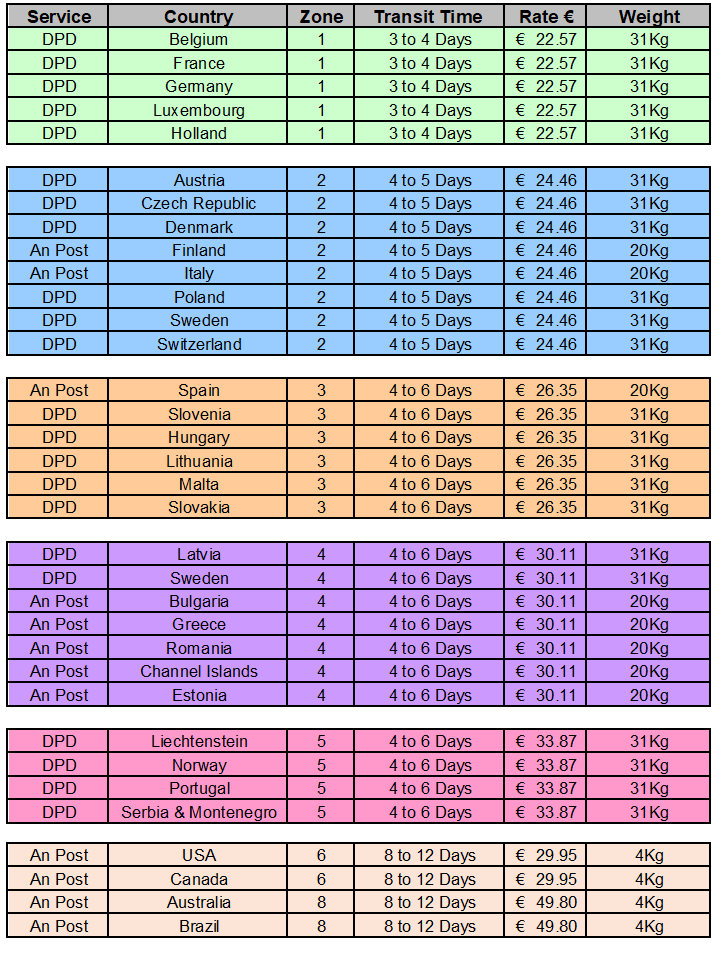 Terms
The shipping fee is fixed for an order, regardless of the number of items bought
All courier orders require signed proof of delivery & the customer must be contactable by phone
We do not offer a weekend delivery service (Mon-Fri Only excl. Bank Holidays)
* Our courier achieves a 98% success rate on next day deliveries
** Seed postal option applies to seed ONLY orders & is available in all 32 counties of Ireland
*** Does not apply to seed potatoes, bulbs or sets