Next day delivery available on most products. Order before 4pm Mon-Thurs.

Tomato Feed - Description
A High Potash Tomato Food for Bumper Crops of Juicy Tomatoes
1 Litre Plastic Container with Pourable Lid
Type: Liquid Tomato Feed
Brand: Vitax
Analysis:


NPK Fertiliser 4-4-8
Nitrogen (N) 4%
Phosphorus Pentoxide 1.7%
Potassium Oxide 6.6%
Also Includes: Trace Elements, Seaweed Extract & Wetting Agent
Contains Extra Magnesium
Tomato Feed - Uses
This is very much a specific purpose fertiliser
Can be used to feed the following plants


Fruit (Strawberries etc)
Tomatoes
Cucumbers
Courgettes

Can also be used to promote flowering of roses and other shrubs
Use to feed tomatoes in growbags, pots, greenhouse & outdoors
Use to promote fruit development
Tomato Feed - Advantages
Potassium based meaning it is suitable for flower and fruit development
Effective tomato fertiliser
Small compact container with easy flow opening
Relatively odour free
Can be used on tomatoes grown outdoors or indoors
Tomato Feeding - Application
Once the flowers being to appear, start to feed your tomatoes
Feed once or twice a week
For young plants

Mix 1 inner capful (15ml) with 5 litres of water
5 Litres will feed 7 plants under glass
Or 7 out in the open

For larger plants

Mix 1.5 inner capful (22ml) with 5 litres of water
5 litres will feed 6 plants under glass
Or 7 out in the open
Tip: Avoid touching the plant with the tomato feed
Tomatoes are mostly grown in a greenhouse. It is warmth and not direct sunlight which promotes fruit ripening. Tomato plants can be grown from plants bought from garden centres in May or raised from seed in February.

If growing tomatoes from seed
When

Sow indoors in February, under glass

How


Sow seed 0.1cm deep in 3 inch pots using potting compost
Sow 3 seeds in each pot, and thin out later

Transplanting

In April / May transplant into larger, 6 inch pots using potting compost and place in greenhouse.
Some varieties can be grown outdoors in May, these include: Sungold F1 and Alicante

If growing outdoors
Transplant seedlings in late May, position in a warm, sheltered, south facing, sunny location.
Plant into soil which is fertile, moist and drains well.
Add well rotted farm-yard manure to soil before planting.
Keep soil moist throughout growing season.
A regular water supply is essential for a successful crop
General care of your tomato plants
Feeding

Use a liquid feed. Once first flowers appear, use tomato feed, or fertilizer high in Potash.
Read instructions provided on fertilizer label
Feed once each week

Watering

Avoid irregular watering: If plants dry out, fruits can shrink leading to splitting.
If over watered, tomatoes can develop 'blossom end rot', a black mould on base of fruits
Keep soil moist, water once a week

Supporting

Tie main stem to a cane, or support plants by tying them to greenhouse crossbars over head.
Do not tie twine to tight around stem


Pruning

Reduce the number of fruiting stems to speed up ripening.
Plants can be pruned so that only the main stem and 3 side shoots remain.
Remove any remaining side shoots as they appear) from the base of every leaf), this is known as pinching out.
Cut off yellowing leaves and those shading lower 'trusses' of fruit.

Harvest

25 weeks
If fruits are still green, ripen indoors.
Placing tomatoes in a warm location next to bananas helps speed up ripening process
Note: We don't ship plants on Fridays due to the extended period they would remain without light & water
Here at TheGardenShop.ie we aim to provide a fast, reliable & low cost delivery service
Shipping Options & Rates
Standard Courier Delivery With Fastway (2-4 Working Days)

Cost is €4.95 on Orders Below €75
Free Delivery on Orders Above €75
Rep. of Ireland & Northern Ireland Only

Express Courier Delivery With Fastway (1-2 Working Days)

Cost is around €5 extra for express delivery
This service guarantees that any order placed before 4pm will ship from our depot the same day on the next day delivery service *
Rep. of Ireland & Northern Ireland Only

Express Delivery With DPD (1-2 Working Days)

Cost is €3 extra
This service guarantees that any order placed before 4pm will ship from our depot the same day on the next day delivery service *
Rep. of Ireland & Northern Ireland Only
This services comes with text alerts and timed delivery slots which the customer can change to suit themselves

'Seed' Postal Delivery Option ***

Cost is €2 - Packet of Seeds ONLY Orders
Note: Does Not Apply to Seed Potatoes, Bulbs or Sets ***
Rep. of Ireland & Northern Ireland Only

Great Britain

Cost is €10
UK shipping fee covers parcels up to a total weight of 20Kg
Western Europe

Note: There is no free delivery for Western Europe Deliveries
Bulk Bags & Large Item Pallet Deliveries
Bulk bags & large orders are shipped via pallet couriers on a rigid lorry
Delivery is to kerbside only
If road access to your site is tight, then please advise us before purchasing
Please Note: We cannot guarantee next day delivery on pallet deliveries
Also, we cannot guarantee delivery on a specific day (Please allow 1-3 days for delivery)
It's always best to order well in advance to avoid disappointment
Cancellation of pallets when items are already in transit will incur a 40 euro per pallet cancellation fee (To cover return delivery costs)
Where pallet delivery can not be made due to site access, a 40 euro per pallet cancellation fee will apply (To cover return delivery costs)
International Delivery Prices & Times
Please note max weights below, heavier orders may require additional payment
We will contact you to discuss, if max weight of order exceeded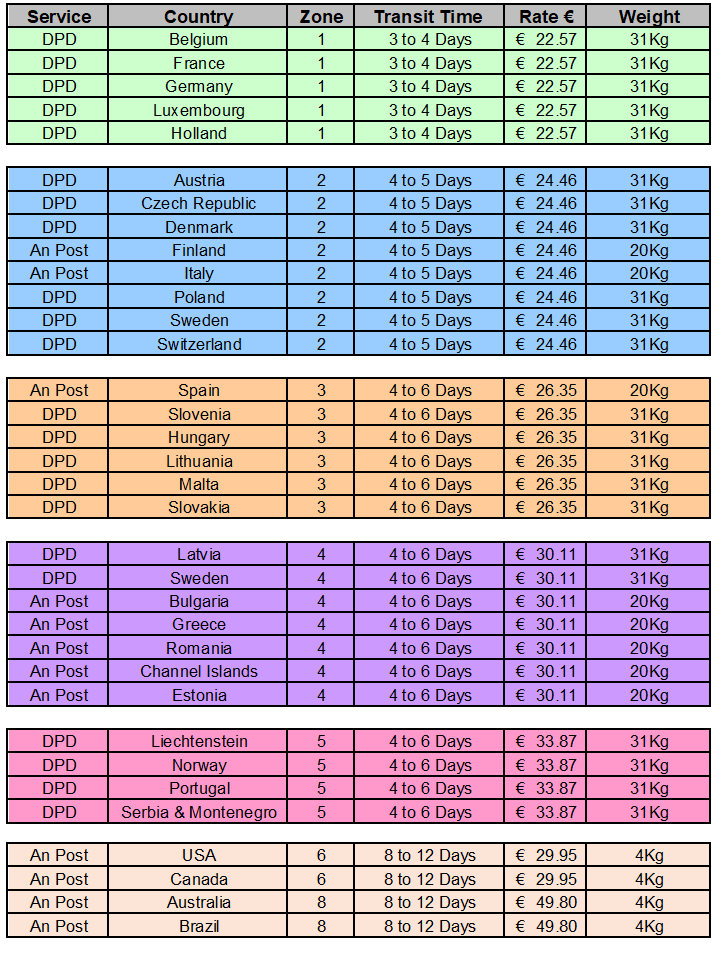 Terms
The shipping fee is fixed for an order, regardless of the number of items bought
All courier orders require signed proof of delivery & the customer must be contactable by phone
We do not offer a weekend delivery service (Mon-Fri Only excl. Bank Holidays)
* Our courier achieves a 98% success rate on next day deliveries
** Seed postal option applies to seed ONLY orders & is available in all 32 counties of Ireland
*** Does not apply to seed potatoes, bulbs or sets