Next day delivery available on most products. Order before 4pm Mon-Thurs.

Venus Fly Trap - Description
Dionaea Muscipula
Amazing Carnivorous Plant
Plant that Catches & Eats Flies & Spiders
Grow Your Own Kit Contains

1x Plant Pot
Venus Fly Trap Seeds (Approx. 10 seeds)
Growing Medium
Plastic Propagation Chamber (This is the Outer Packaging)

Pot Size: 5cm Diameter
Easy to Grow (Please Read Sowing & Care Instructions Below)
Suitable for Indoors
Can be Transplanted into Bigger Pot
Venus Fly Trap - Uses
Attractive indoor plant
Carnivorous plant - will eat house insects including spiders & flies
Ideal in office, windowsills or apartments
Makes a great gift
Venus Fly Trap - Sowing Instructions
Remove packaging carefully & keep plastic cover
Add water retaining disk to base of pot
Add the soil provided to the pot
Wet the soil with clean water
Place all the seeds in the pot
Sow 0.5cm deep
Cover lightly with soil
Moisten the soil lightly
Cover with clear plastic to aid germination
Once sprouts emerge, remove the plastic
Venus Fly Trap - Care
Venus fly trap requires 12 hours of light during the growing season
They require 4 hours of direct sunlight each day
Keep soil moist with clean water - Distilled or deionized water is ideal
Tap water can be harmful to venus fly trap plants
Position in a bright south east facing window
As plant develops, transplant into a larger pot
Remove flowering stalks as they develop
Venus fly trap requires a period of dormancy each Winter
You can feed the traps dead insects but the venus fly trap can feed itself!
Venus Fly Trap - Quick Facts
Venus fly traps are hardy plants & can withstand frosty conditions
They are herbaceous perennials & die back every Winter but return each Spring
Venus fly traps come from boggy & swampy lands of North & South Carolina
Hairs on the inside of the leaf tells the plant when prey are near
How the venus fly trap snaps shut is still not fully understood, but may involve rapid cell growth within the leaves
Note: We don't ship plants on Fridays due to the extended period they would remain without light & water
Here at TheGardenShop.ie we aim to provide a fast, reliable & low cost delivery service
Shipping Options & Rates
Standard Courier Delivery With Fastway (2-4 Working Days)

Cost is €4.95 on Orders Below €75
Free Delivery on Orders Above €75
Rep. of Ireland & Northern Ireland Only

Express Courier Delivery With Fastway (1-2 Working Days)

Cost is around €5 extra for express delivery
This service guarantees that any order placed before 4pm will ship from our depot the same day on the next day delivery service *
Rep. of Ireland & Northern Ireland Only

Express Delivery With DPD (1-2 Working Days)

Cost is €3 extra
This service guarantees that any order placed before 4pm will ship from our depot the same day on the next day delivery service *
Rep. of Ireland & Northern Ireland Only
This services comes with text alerts and timed delivery slots which the customer can change to suit themselves

'Seed' Postal Delivery Option ***

Cost is €2 - Packet of Seeds ONLY Orders
Note: Does Not Apply to Seed Potatoes, Bulbs or Sets ***
Rep. of Ireland & Northern Ireland Only

Great Britain

Cost is €10
UK shipping fee covers parcels up to a total weight of 20Kg
Western Europe

Note: There is no free delivery for Western Europe Deliveries
Bulk Bags & Large Item Pallet Deliveries
Bulk bags & large orders are shipped via pallet couriers on a rigid lorry
Delivery is to kerbside only
If road access to your site is tight, then please advise us before purchasing
Please Note: We cannot guarantee next day delivery on pallet deliveries
Also, we cannot guarantee delivery on a specific day (Please allow 1-3 days for delivery)
It's always best to order well in advance to avoid disappointment
Cancellation of pallets when items are already in transit will incur a 40 euro per pallet cancellation fee (To cover return delivery costs)
Where pallet delivery can not be made due to site access, a 40 euro per pallet cancellation fee will apply (To cover return delivery costs)
International Delivery Prices & Times
Please note max weights below, heavier orders may require additional payment
We will contact you to discuss, if max weight of order exceeded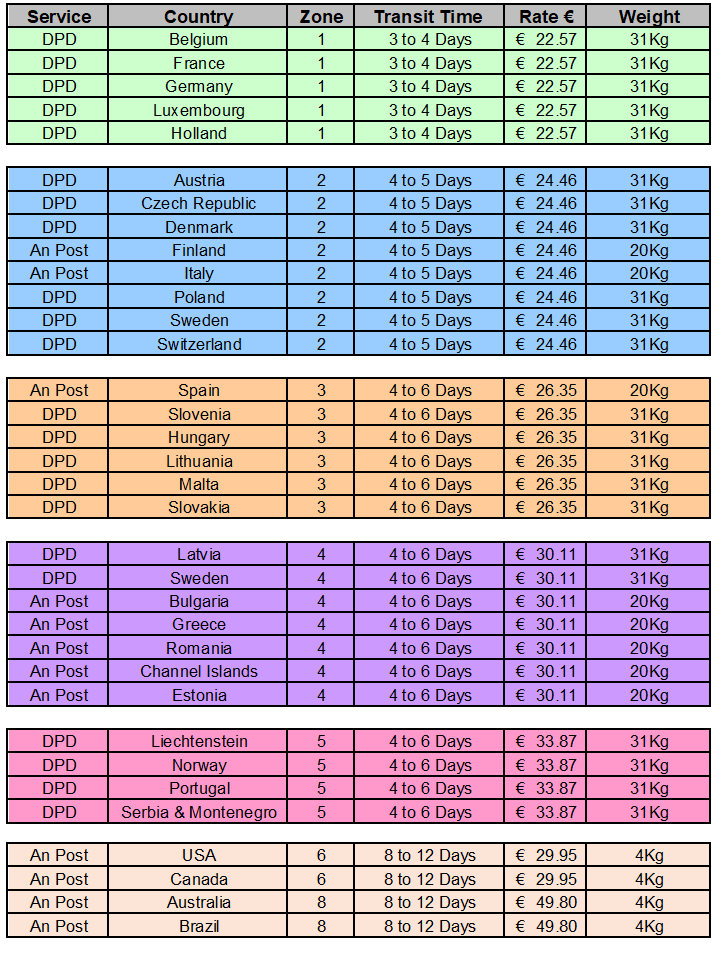 Terms
The shipping fee is fixed for an order, regardless of the number of items bought
All courier orders require signed proof of delivery & the customer must be contactable by phone
We do not offer a weekend delivery service (Mon-Fri Only excl. Bank Holidays)
* Our courier achieves a 98% success rate on next day deliveries
** Seed postal option applies to seed ONLY orders & is available in all 32 counties of Ireland
*** Does not apply to seed potatoes, bulbs or sets