Wheatgrass Seeds - Description
Pack of Untreated Wheatgrass Seeds
Grow Your Own Sprouting Wheatgrass Seedlings
Quantity Per Packet: 400 Seeds
Sufficient For 1 Standard Seed Trays (38 x 22cm Each)
Yield at Harvest: 600ml of Wheatgrass Tonic (6 servings)
Triticum Aestivum (Hard Winter Wheat)
Un-treated Seeds
Superfood, High in Vitamins
Quick to Harvest - Just 1 to 2 Weeks
Sweet Taste
Wheatgrass Seeds - Sowing Instructions
Sow any time of the year
You should soak wheatgrass seeds in water for 12 hours prior to sowing
To sow, add approx. 2 inches of compost to a garden tray
Spread seeds out over the surface of the compost
The wheatgrass seeds can touch but not overlap
Sprinkle a layer of compost over the seeds
Place tray in indirect sunlight
Keep compost moist at all times - water lightly every morning
Keep a layer of newspaper over the seedlings to retain moisture

This should be done for the first week of growth

Germination takes 2 - 3 days
Harvest once wheatgrass is about 15cm in height
Harvest with scissors, cutting close to root zone
You may get a second harvest for this crop
Ideally you should have a number of trays growing to ensure a continual supply of wheatgrass
Wheatgrass will keep in the fridge for about a week
But Ideally you should juice it & use directly after harvesting
Wheatgrass - Nutrient Content
Potassium
Dietary Fibre
Vitamin A
Vitamin C
Vitamin E (Alpha Tocopherol)
Vitamin K
Thiamin
Riboflavin
Niacin
Vitamin B6
Pantothenic Acid
Iron
Zinc, Copper, Manganese & Selenium
Wheatgrass - Advantages
Wheatgrass is considered a 'Super Food'
Can be grown in kitchen
No soil required to grow (Can be grown hydroponically)
Fast to maturing
Great sweet flavour
How to Grow Wheatgrass
Wheatgrass and other sprouting seeds are becoming more and more popular as people's awareness of the benefits of such food grows
Wheatgrass is considered a superfood thanks to its high levels of beneficial proteins which are essential building blocks as well as high levels of vitamins including A, B, C, E, l and K
Ideally a quick shot of wheatgrass should be consumed every morning to see its benefits
The best way to consume wheatgrass is fresh, straight from the plant!
Below is a guide on how to grow your own wheatgrass. The process is really simple and really fast.
Choose the correct seeds. Wheatgrass seeds can be bought online at thegardenshop.ie and in health food stores
Wheatgrass is also known as Hard Red Winter Wheat or Triticum Aestivum
Choose the right trays and growing medium
At thegardenshop.ie we sell all you need to grow wheatgrass
Really all you need is a small tray, about 30 x 40cm
The tray must be at least 7cm in depth and will need drainage holes in the base
Most soil based composts will work fine
At thegardenshop.ie we use John Innes No.3
How to Grow

One tray of 30 x 40cm will grow about 500grams of seeds. This will be sufficient for 2 weeks of wheatgrass shots
Start by adding your soil or compost to the tray
Lightly soak the soil and then spread your seeds out over the surface of the soil
The seeds should cover the surface of the soil but be spaced out just enough so that they are not overlapping
Sprinkle a fine layer of soil over the seeds and gently press down with your hand
Caring For Your Wheatgrass

Position the tray on a windowsill
In Summer, position the tray in partial shade, in Winter position in full sun
Water your trays every morning. Water the tray well, until water begins to drain from the base of the tray
Wheatgrass will take between 10 to 14 days to mature. Once the grass reaches about 15cm in height you can begin the harvest
To harvest, simply cut the grass approx. 1" above soil level
Only harvest what you need and once you begin harvesting your first tray you should start to sow a second tray to ensure you have a continual supply of wheatgrass to harvest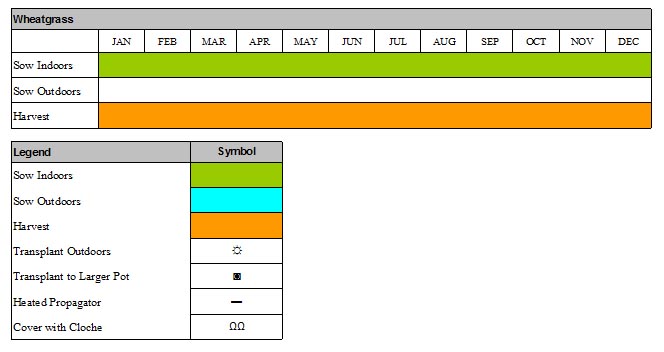 Due to increased volumes in orders, please allow additional time for delivery

Note: We don't ship plants on Fridays due to the extended period they would remain without light & water
Here at TheGardenShop.ie we aim to provide a fast, reliable & low cost delivery service
Shipping Options & Rates
Standard Courier Delivery With Fastway (3-5 Working Days)

Cost is €4.95 on Orders Below €75
Free Delivery on Orders Above €75
Rep. of Ireland & Northern Ireland Only

Express Courier Delivery With Fastway (2-3 Working Days)

Cost is around €5 extra for express delivery
This service guarantees that any order placed before 4pm will ship from our depot the same day on the next day delivery service *
Rep. of Ireland & Northern Ireland Only

Express Delivery With DPD (2-3 Working Days)

Cost is €3 extra
This service guarantees that any order placed before 4pm will ship from our depot the same day on the next day delivery service *
Rep. of Ireland & Northern Ireland Only
This services comes with text alerts and timed delivery slots which the customer can change to suit themselves

'Seed' Postal Delivery Option ***

Cost is €2 - Packet of Seeds ONLY Orders
Note: Does Not Apply to Seed Potatoes, Bulbs or Sets ***
Rep. of Ireland & Northern Ireland Only

Great Britain

Cost is €10
UK shipping fee covers parcels up to a total weight of 20Kg
Western Europe

Note: There is no free delivery for Western Europe Deliveries
Bulk Bags & Large Item Pallet Deliveries
Bulk bags & large orders are shipped via pallet couriers on a rigid lorry
Delivery is to kerbside only
If road access to your site is tight, then please advise us before purchasing
Please Note: We cannot guarantee next day delivery on pallet deliveries
Also, we cannot guarantee delivery on a specific day (Please allow 1-3 days for delivery)
It's always best to order well in advance to avoid disappointment
Cancellation of pallets when items are already in transit will incur a 40 euro per pallet cancellation fee (To cover return delivery costs)
Where pallet delivery can not be made due to site access, a 40 euro per pallet cancellation fee will apply (To cover return delivery costs)
International Delivery Prices & Times
Please note max weights below, heavier orders may require additional payment
We will contact you to discuss, if max weight of order exceeded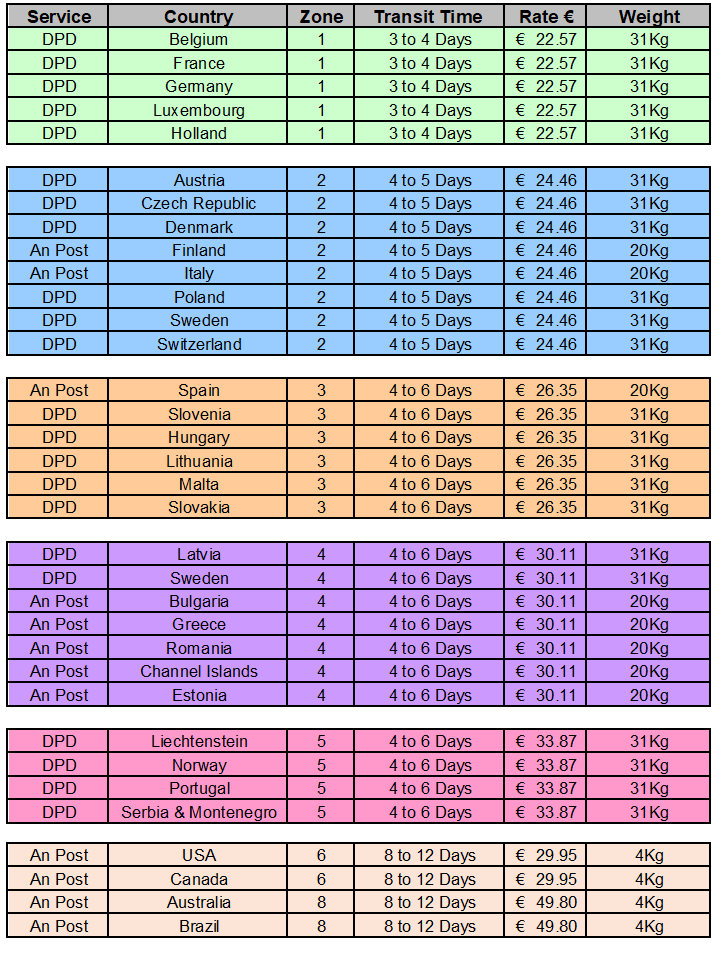 Terms
The shipping fee is fixed for an order, regardless of the number of items bought
All courier orders require signed proof of delivery & the customer must be contactable by phone
We do not offer a weekend delivery service (Mon-Fri Only excl. Bank Holidays)
* Our courier achieves a 98% success rate on next day deliveries
** Seed postal option applies to seed ONLY orders & is available in all 32 counties of Ireland
*** Does not apply to seed potatoes, bulbs or sets