How to Grow Raspberries
People can be put off growing there own raspberries because they assume that they require a lot of maintenance and can grow fast and take up a lot of space. But the truth is that with a bit of maintenance and a good support system, raspberries can be maintained and kept to a limited space while providing a good harvest each Summer & Autumn. One thing we can be sure of is that raspberries will grow and are hardy and suited to the Irish climate.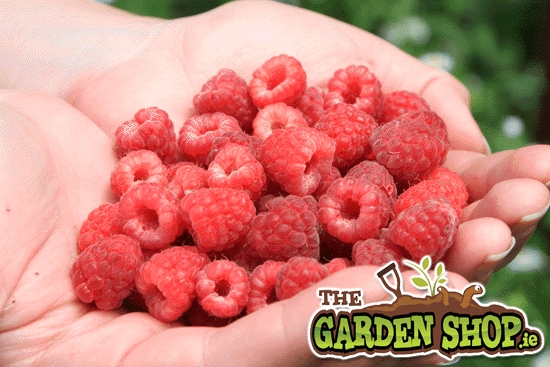 Pruning can scare some people off growing fruits as there is often confusion over when is the right time to prune certain fruit bushes. With raspberries you should only remove stems that have just finished fruiting - and leave the younger stems – as these will fruit in the following year.
The first process in growing and caring for raspberries is to build a support. Next ensure that you have good fertile soil and a sunny location. When it comes to choosing varieties then here are some that you can consider.
'Glen Moy' – Originates from Scotland, Fruits early giving good yields and grows 1.5m tall and is thorn-free!
'Joan J' An Autumn fruiting type, but not as large growing as Glen Moy. Joan J is suitable for containers. RHS AGM Award Winning, this variety of raspberry gives great tasting fruits. Will fruit up until the first frost
'Glen Ample' You can tell by it's name that not only is it from Scotland, but that it also produces 'Ample' amounts of fruit. This is a vigorous and fast growing raspberry that is a mid season fruiter of large, juicy fruits – also thorn free!
When to Grow Raspberries
Plant out November to mid March
Raspberries canes are best planted in the dormant season, you can plant any time so long as the ground is not frozen. Buy your canes early and plant immediately for best results. Plants can be bought as bare roots or potted. Soil preparation is important – so be sure to add well rotted farm yard manure to the base of the planting hole at time of planting.
Where to Grow Raspberries
Sunny location, avoid frost pockets & wind
Shelter is important as canes don't like being blown in the wind. Sunny location is most ideal yet they will manage a small amount of shade. Smaller varieties can be grown in containers or raised beds.
How to Plant Raspberries
Fertile, well draining soil. Space 30cm apart & rows 120cm apart
When planting bare root plants, it is important that you treat them with great care for best results. Ensure root system remains damp at all times. Plant raspberry canes in double rows. Space canes 30cm apart, with rows spaced 1.2m apart. When planting, don't plant too deep or too shallow – make sure that roots are just below ground level.
Care of Raspberries
Build support & prune out previous seasons fruiting stems
The first job is to build a suitable support frame. This is to keep canes up off the ground, to contain canes to a area and to allow for ease of harvesting. A support frame also allows you to cover the crop with netting to protect at time of fruiting. Frames can be built using two fencing posts and running a length of 2mm wire between the posts.
Pruning is done in Winter after fruiting, while Autumn varieties can be pruned as late as February. To prune, remove entire canes down to ground level. You can leave younger canes that have not yet fruited.
Cover crops with garden netting once fruits appear - this is to protect against bird attacks.
General maintenance includes keeping plants free of weeds, weeding rows every few weeks and mulching up around the base of the plants with either compost, straw or plastic.