Low Maintenance Border Planting Plan
While there is no such thing as a no maintenance garden, a low maintenance garden can be achieved while still having a beautiful and interesting garden and planting scheme. To reduce maintenance in your garden, you should avoid many flowering herbaceous plants. These require a lot of cutting, feeding, supporting etc during the year which all adds to maintenance in the garden.
To ensure that you still have lots of colour & variety in your garden, you should focus on the foliage of plants & the wide range of colours, textures & leaf shapes that can all combine to create a harmonious planting scheme.
Also, choosing flowering bulbs such as daffodils or tulips is another easy way to add colour to your garden with minimal maintenance.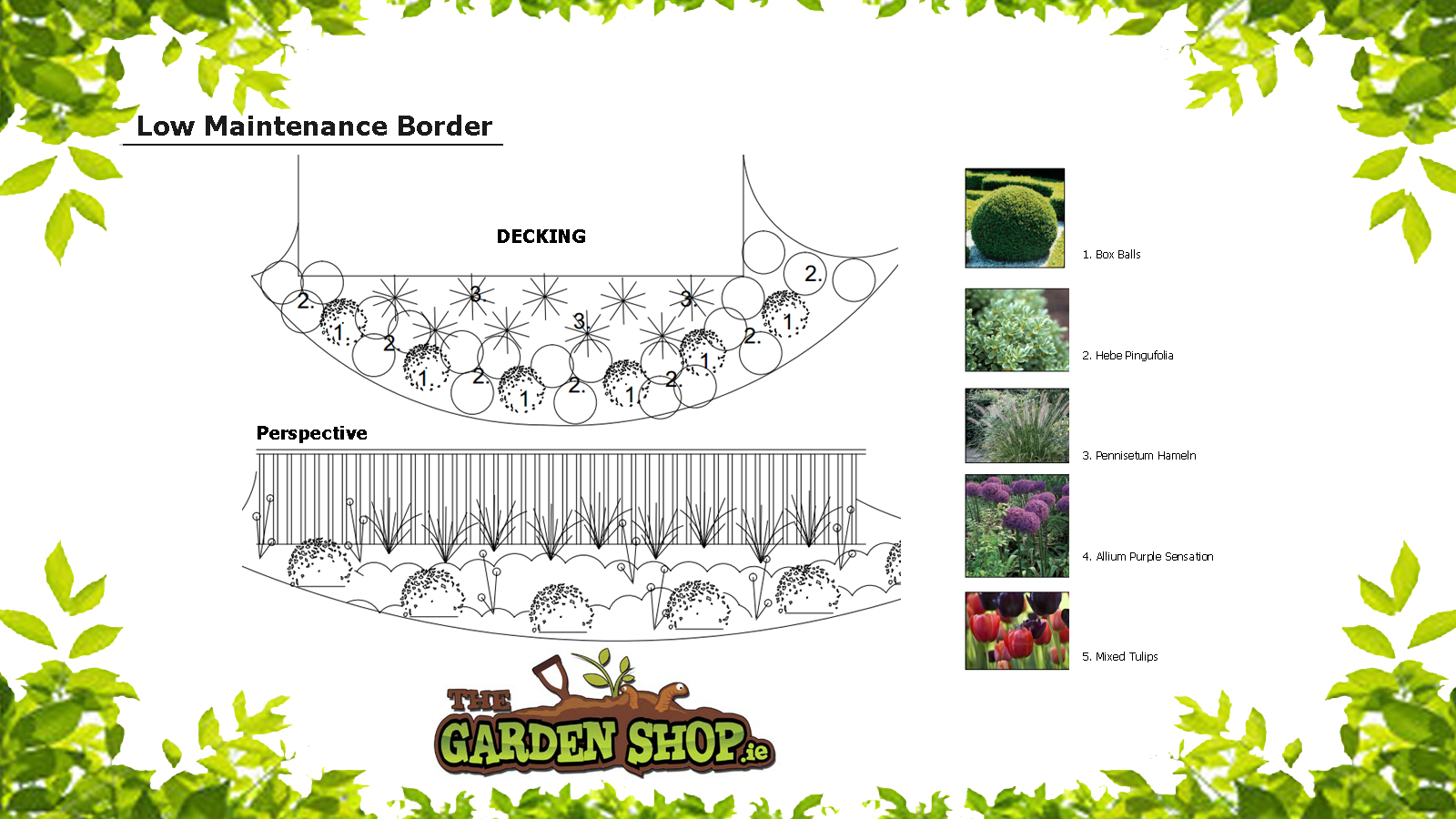 Note: Click image to open larger version in new tab/window
In the scheme above we have chosen the following plants...
Buxus Sempervirens (Box Balls) Topiary
Hebe Pingufolia
Pennisetum Hameln
Allium Purple Sensation
Red Apeldorn Tulips
Black Knight Tulips
The choice of grass & box balls work great together for their contrasting foliage with the Buxus having dense, fine green leaves & the grasses having long, slender silvery blue foliage. The Hebes are always suited to a low maintenance garden because of their neat, compact habit. All these plants are also evergreen giving year round interest. Little maintenance is required. The box should be trimmed once a year and so too the Hebe plant.
To add height & colour, we chose tulips & alliums. The tulips flower first in late Spring & these are followed by alliums in early to mid Summer.
To complete the low maintenance border you can add mulch chippings. The chippings will keep the weeds away & also ensure your beds are moist in Summer & the soil is warmer in Winter & Spring.