South Facing Planting Plan
All south facing gardens should to utilised to their maximum potential. A south facing patio or flower bed will get the most sun during the day meaning that this area would be ideal for a dining area or garden bench. South facing sites also allow for the most colourful range of flowering plants meaning you can have colour from early Spring right through to Autumn.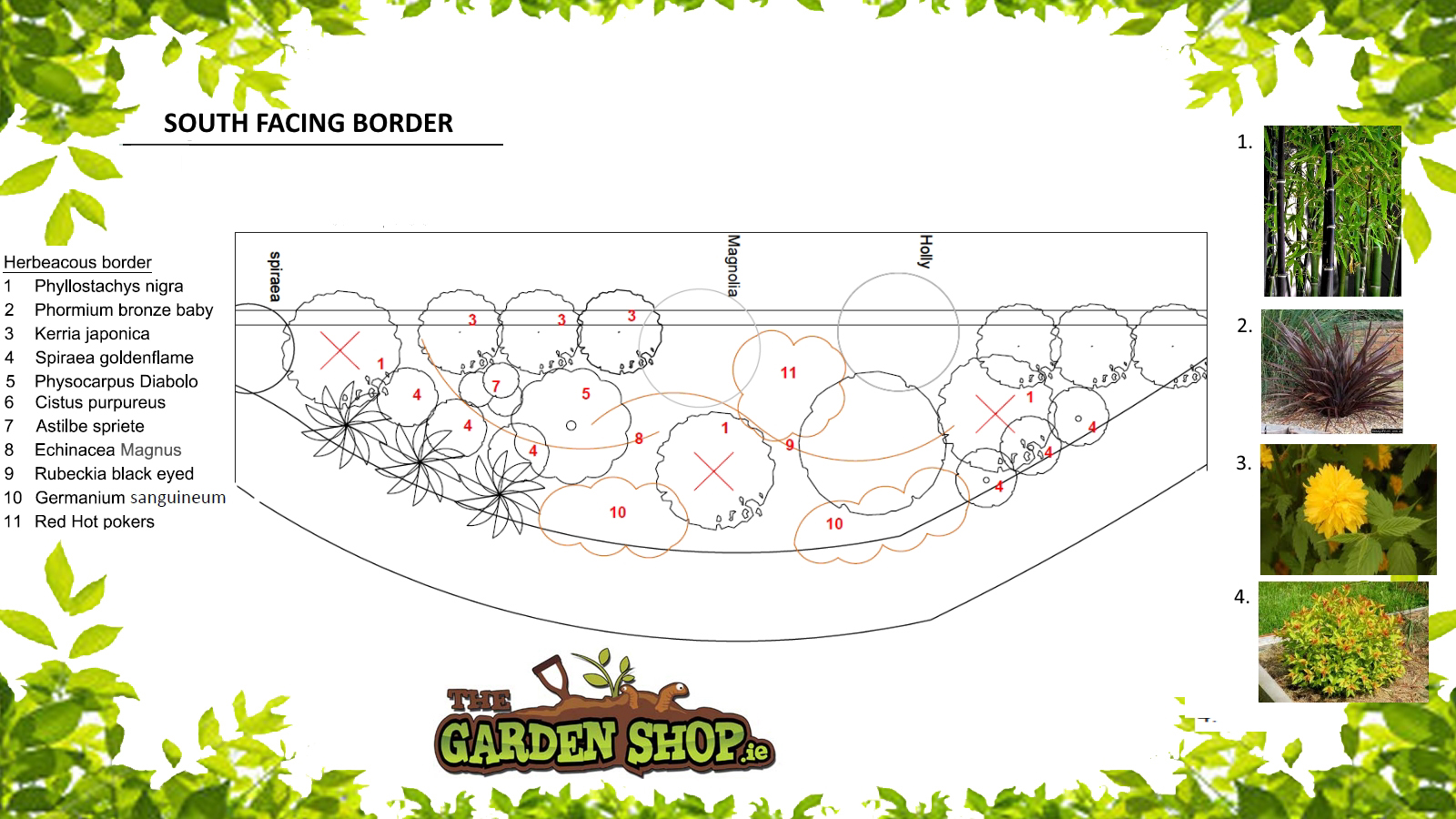 Note: Click image to open larger version in new tab/window
As plants grow fast in a sunny spot you can buy a range of small infiller herbaceous plants and by the end of their first season they will have filled out to give fully grown plants. But while flowers will grow fast, so too will weeds so it is recommended that you weed these beds regularly and also to mulch in around the base of your plants to prevent weeds and to retain water. In the height of Summer make sure to irrigate these south facing beds in the morning to set your plants up for a day of growth.
Because of the wide selection of plants suited to a sunny border you can really get creative with your planting theme. One option would be to follow a specific colour theme such as a bed of only reds, yellows & oranges or you could choose only tall growing herbaceous plants. The list is endless.
To ensure your south facing beds have something interesting all year round then you can plant some Magnolias or Cherry Blossoms towards the back of the border, these will give you colour in Spring. You can then fill the beds with an endless array of summer flowering herbaceous plants such as Lupins, Penstemon, Delphiniums, Agapanthus, Daylilies & Astilbes. Finally for Autumn colour, include Echinacea, Verbena, Dahlias, Rudbeckia & Red Hot Pokers

In the plan above, we have chosen to mix plants with interesting foliage with herbaceous plants with vibrant blooms from Summer to Autumn. In this plan, tall bamboo plants form the structure & backdrop for all other plants. A number of bronze leaved Phormiums give year round structure & contrast nicely with the lime green bamboo. Then a series of herbaceous flowering plants drift & sweep through the scheme

SUGGESTED LIST OF PLANTS

Larger Plants

Phyllostachys Nigra - Black Stemmed Bamboo
Specimen Plants
Flowering Shrubs
Kerria Japonica - For Spring colour
Spirea Goldflame - For Summer colour
Physocarpus Diabolo - For Summer colour
Cistus Purpurea - For Summer to Autumn colour
Infillers & Herbaceous Perennials
Astilbes
Echinacea
Rudbeckia
Geraniums
Red Hot Poker