Gardening Advice & Tips for Irish Gardeners
Growing Daffodils in Ireland – How to Plant Daffodil Bulbs
Autumn is the time where we start thinking about planting our daffodil bulbs. Daffodils bring a nice burst of colour to our gardens and borders in spring.

When to Plant Daffodils
Daffodils are sown usually from September to November as bare daffodil bulbs but can be planted until the ground starts to freeze.
Conditions for Growing Daffodils
Daffodils like lots of sunlight, all day long preferably. They need a very minimum of six hours direct sunlight. In shaded areas, their flowering ability will be greatly hampered.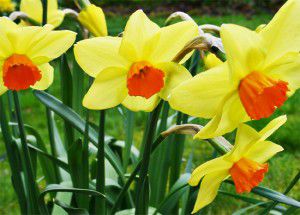 On the soil side of things, they do like well drained areas where water run off does not collect. It's best to avoid areas of the garden that are usually very muddy or swampy.
Planting Daffodil Bulbs
Daffodil bulbs should be planted around six inches apart. The hole for the daffodil bulb should be at least two times more deep that the height of the bulb itself. You could use something like a bulb planter for this task. See the video below for an example of how to use a bulb planter. Bulb planters work best where your soil is not heavily compacted or already has something growing in it, i.e., a lawn. The bulb planter can work through an established lawn but it does take a lot of force so best to use a hand trowel, spade or something like this if planting in an established lawn.
At the bottom of the newly dug planting hole, just give the soil a quick loosen. This will help the bulb establish roots easier. Place the bulb firmly in the upright position in the bottom of the hole, giving it a gentle twist to help stabilise it in position further. I say, the upright position, what I mean by that is the pointy end upwards.
Place the soil back in the hole and pat down. If you know that there is heavy rain coming, you need not water vigorously but if not make sure to give the newly planted daffodil bulb a good soaking.
That's it. Just wait for the spring!
Prev Post:
Preserving Beetroot - How to Pickle Beetroot
Next Post:
Growing Crocuses in Ireland – How to Plant Crocus Bulbs