Gardening Advice & Tips for Irish Gardeners
Growing Crocuses in Ireland – How to Plant Crocus Bulbs
Crocuses are a great little spring flower and will grow pretty much anywhere around the world. They add a vibrant dash of colour to your spring garden. Once the weather starts to get chillier in autumn, it's time to start things about planting your crocus bulbs.
Crocus bulbs and plants are very resistant to disease & pest but are a favourite treat of squirrels, so be warned if you live near a wooded area!!
A normal crocus plant will grow to around three to four inches tall. Crocuses are highly prolific and will usually spurn extra bulbs which can then be separated and replanted to grow new crocus flowers.

Growing conditions for crocuses
Crocus Bulbs should be sown several inches apart and spaced evenly. Crocuses prefer sunny locations. When planting your crocus bulbs, make sure that the planting hole is at least 2-3 inches deep. You could use a bulb planter for this job, see video below. Sometimes it's nice to have a layer of mulch on top of the covered hole but this is not really necessary in Ireland, as the weather conditions don't get cold enough (tell that to me toes last year!) and as the crocus is a hardy little plant, it can survive pretty much anything the Irish weather can throw at it.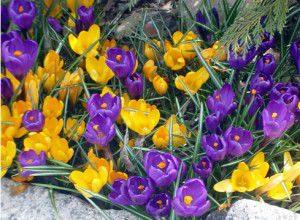 Possibly a Wexford Fan???
As usual, the crocus prefers well drained soil but in fact, it will grow just about anywhere there is a decent amount of sunlight.
Just sit back and wait for your beautiful display of crocus flowers in the spring!
Prev Post:
Growing Daffodils in Ireland – How to Plant Daffodil Bulbs
Next Post:
Growing Bluebells in Ireland - How to Plant Bluebell Bulbs