Gardening Advice & Tips for Irish Gardeners
Water Charges in Ireland to Begin on October 1st 2104
This day has certainly come around quicker than expected and as of midnight on the 30th of September tap water in Ireland will no longer be free. So what are the implications for homeowners and gardeners and what can we do to lessen the financial strain?
Well, the first thing to note is that the recently installed meters measure water coming in as well as water going out. This means while we are charged for fresh water coming in, we are also being charged for waste water going out.

So what are the charges and how much are we likely to pay?
Each household has been given an allowance of 30,000 litres per year with an additional 21,000 litres per child. After that, the charges start to kick in. The rate per 1000 litres currently stands at 4.88€, which is just under 0.5 cent a litre and that can add up very quickly. If a household only requires one service then the rate is halved to 2.44€ per 1000 litre or 0.24 cent per litre.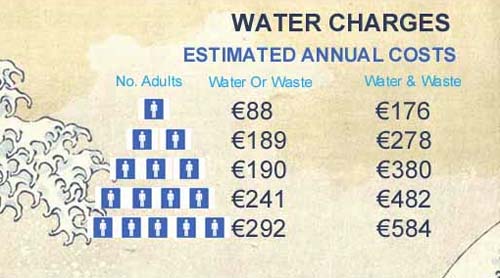 It has been estimated that an average household of 2 adults will face water and waste water charges totalling 278€ per year. A household with 4 adults is looking at a bill close to 500€ per year for water and waste water.
So what are we using all this water for?
Well, the annual consumption per adult is said to be around 52000 litres. This water is used both inside and outside of the home. Here is a percentage breakdown of where water is used...
With an average shower requiring 80 litres of water, the running cost comes to around 39 cent per shower. A toilet uses 18 litres of water with each flush coming to around 9 cents.
By the middle of Summer, a garden needs about an inch of water a week. So if rain doesn't fall, your garden would need about 25 litres of water for every square meter. This equates to 0.12€ of water per m2.
The most interesting stat of all is that only 5% of all the treated water is actually consumed by humans as drinking water or in cooking. Therefore we can say that 95% of fluoridated and chlorinated water goes to waste and 'grey' water would be just as good.
So what can we do to reduce usage and stay on top of our water bills?
There are a number of water storage options available to gardeners and home builders. With sizes ranging from 100 litres to 10,000 litres. All levels of water storage are catered for.
Fitting more basic 100 – 1000L butts is a simple process and can be done over the course of a few hours with basic tools including a saw, spirit level and hole-saw.
Connecting a 1000 litre water pump to your downpipe can collect up to 100,000 litres of water each year. This would allow for great savings and also provide your garden with the most ideal of water – rain water.
Prev Post:
The Weekend Gardener (Part 18)