Next day delivery available on most products. Order before 4pm Mon-Thurs.

Raised Bed Garden Kit - Description
This larger raised bed kit includes all you need for growing herbs or vegetable in raised beds. The kit suits any gardener, whether novice or seasoned. Raised beds offer a great solution where garden space & soil is limited. They are also a low maintenance way to grow vegetables.
Raised Bed Garden Kit - Contents
1x High Timber Raised Bed (LxWxH: 150x90x29cm)
1x Hand Trowel
1x Garden Kneeling Pad
1x Pair of Garden Gloves
1x Organic Liquid Feed (1 Litre)
Selection of Seeds (5 Packs). Choose From Below

Please Note Choice of Vegetables in Customer Notes Section During Checkout

Asparagus (Connover's Colossal)
Brussel Sprouts (Maximus)
Carrot (Autumn King)
Parsnip (True & Tender)
Beetroot (Detroit Crimson)
Climbing French Bean (Cobra)
Celery Seed (Celebrity)
Lettuce (All Year Round)
Leek (Toledo)
Radish (Pink Beauty)
Onion (Rijnsburger 5)
Scallion (White Lisbon)
Sweetcorn (Minipop)
Pea (Jaguar)
Cabbage (Greyhound)
Cauliflower (All Year Round)
Or Choose a Selection of our Herb Seeds
Raised Bed Garden Kit - Makes Life in the Garden Easy
These high raised beds are a great way to grow plants, herbs & vegetables
1ft in height meaning the extra height improves soil drainage
The added height also deters some pests including carrot fly & slugs
If growing in garden soil- raised beds offer additional root growing space
Easy to set up & includes assembly instructions
Once set up, simply add soil & start growing
With hand trowel, kneeler & seeds you are ready to get sowing straight away
Raised Bed Garden Kit - How to use
Setting up beds
Choose location - A sunny, sheltered site
Build beds - As per instructions
NOTE: Drill Required - Screws & instructions are also included
Ensure beds are level
If positioning on a patio or hard surface, place a membrane under bed
Preparing bed for sowing
If positioned on garden soil, it is best to dig over the soil to increase root growing space
Add a mix of garden soil, well rotted farm yard manure & multi purpose compost
Mix well, compact lightly & level with a rake
Sowing seeds
Seeds can be started indoors & transplanted out in mid to late March (See Easy Vegetable Starter Kit)
Alternatively you can sow most seeds direct into the raised beds from mid March onwards
We would recommend placing a cloche over the soil 3 weeks prior to sowing - to warm up soil
Lightly wet soil
Sow seeds as per individual requirements - regarding depth / density & spacing
Cover over seeds
Ensure that soil is moist at all times - watering twice a week up to every day in the Summer months
Raised Bed Garden Kit - General Care of Vegetables
Weeding
Keep soil free of weeds
Raised beds are easier to weed then vegetable plots
You can do so using kneeling mat & trowel provided
Watering
As stated, ensure soil is moist at all times
Water 2 times a week in Spring
In wery warm / dry conditions, water more frequently
Ensure that soil is moist but not soaked
Feeding
Use the organic liquid feed provided
Full instructions are included on the packaging
Add to water & feed at same time as watering
Harvest
Again this will vary for each vegetable
Lettuce & salads can be harvested all year round
Spring sown vegetables can be harvested from mid Summer to October
Most vegetables should be harvested before the onset of frost
Note: We don't ship plants on Fridays due to the extended period they would remain without light & water
Here at TheGardenShop.ie we aim to provide a fast, reliable & low cost delivery service
Shipping Options & Rates
Standard Courier Delivery With Fastway (2-4 Working Days)

Cost is €4.95 on Orders Below €75
Free Delivery on Orders Above €75
Rep. of Ireland & Northern Ireland Only

Express Courier Delivery With Fastway (1-2 Working Days)

Cost is around €5 extra for express delivery
This service guarantees that any order placed before 4pm will ship from our depot the same day on the next day delivery service *
Rep. of Ireland & Northern Ireland Only

Express Delivery With DPD (1-2 Working Days)

Cost is €3 extra
This service guarantees that any order placed before 4pm will ship from our depot the same day on the next day delivery service *
Rep. of Ireland & Northern Ireland Only
This services comes with text alerts and timed delivery slots which the customer can change to suit themselves

'Seed' Postal Delivery Option ***

Cost is €2 - Packet of Seeds ONLY Orders
Note: Does Not Apply to Seed Potatoes, Bulbs or Sets ***
Rep. of Ireland & Northern Ireland Only

Great Britain

Cost is €10
UK shipping fee covers parcels up to a total weight of 20Kg
Western Europe

Note: There is no free delivery for Western Europe Deliveries
Bulk Bags & Large Item Pallet Deliveries
Bulk bags & large orders are shipped via pallet couriers on a rigid lorry
Delivery is to kerbside only
If road access to your site is tight, then please advise us before purchasing
Please Note: We cannot guarantee next day delivery on pallet deliveries
Also, we cannot guarantee delivery on a specific day (Please allow 1-3 days for delivery)
It's always best to order well in advance to avoid disappointment
Cancellation of pallets when items are already in transit will incur a 40 euro per pallet cancellation fee (To cover return delivery costs)
Where pallet delivery can not be made due to site access, a 40 euro per pallet cancellation fee will apply (To cover return delivery costs)
International Delivery Prices & Times
Please note max weights below, heavier orders may require additional payment
We will contact you to discuss, if max weight of order exceeded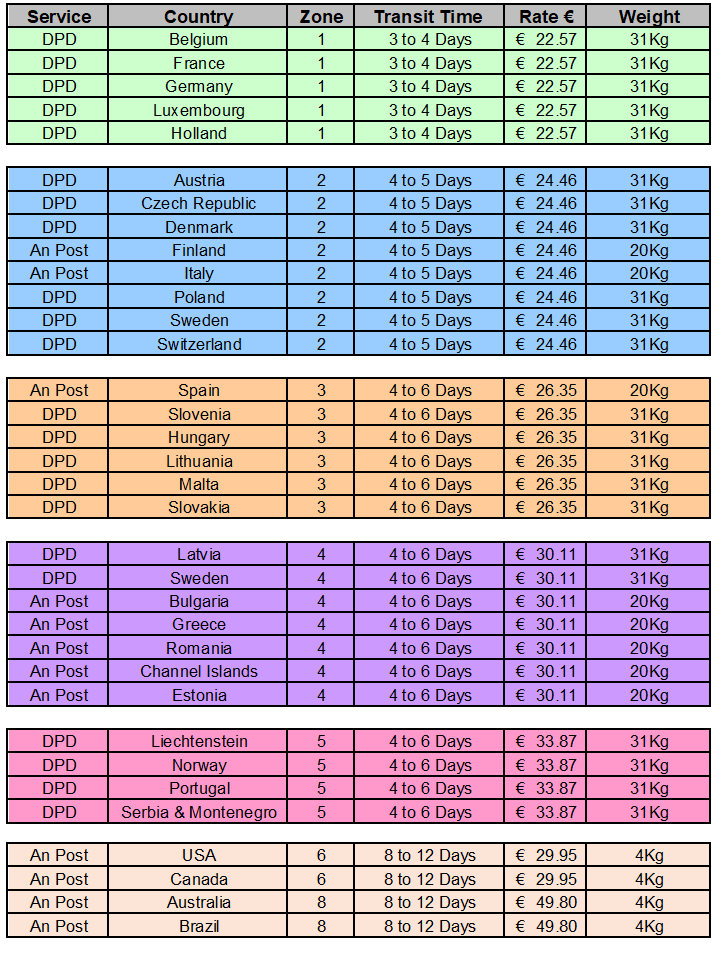 Terms
The shipping fee is fixed for an order, regardless of the number of items bought
All courier orders require signed proof of delivery & the customer must be contactable by phone
We do not offer a weekend delivery service (Mon-Fri Only excl. Bank Holidays)
* Our courier achieves a 98% success rate on next day deliveries
** Seed postal option applies to seed ONLY orders & is available in all 32 counties of Ireland
*** Does not apply to seed potatoes, bulbs or sets