How To Feed A Family Of Four By Growing Your Own
While growing vegetables & working in the garden can be lots of fun, we also hope that our hard work will reward us with a bountiful harvest that will keep us all well fed and feeling good & healthy. But exactly how much land, how many vegetables & what sort of work is required to feed a family of four throughout the year, all 365 days of dining on fruit & vegetables without needing to spend a penny in the supermarket?
Here at TheGardenShop.ie we have trawled through over 5000 different seeds varieties from over 100 different types of fruit & vegetables to work out exactly how we can achieve this ultimate feat of self-sufficiency. On average a single person eats 80kg of fruit & vegetables each year. To feed a family of 4 you will need to produce 320kg from your garden.
By choosing the right crops & the right sowing time, it is possible to keep a wide variety of crops in the garden all year. When choosing the 'top varieties' we also took careful consideration of what vegetables store well, which varieties are happy to grow in Ireland & which varieties offer the biggest yields in the smallest space.
See our infographic below (Click to enlarge it), You can also download a printable version here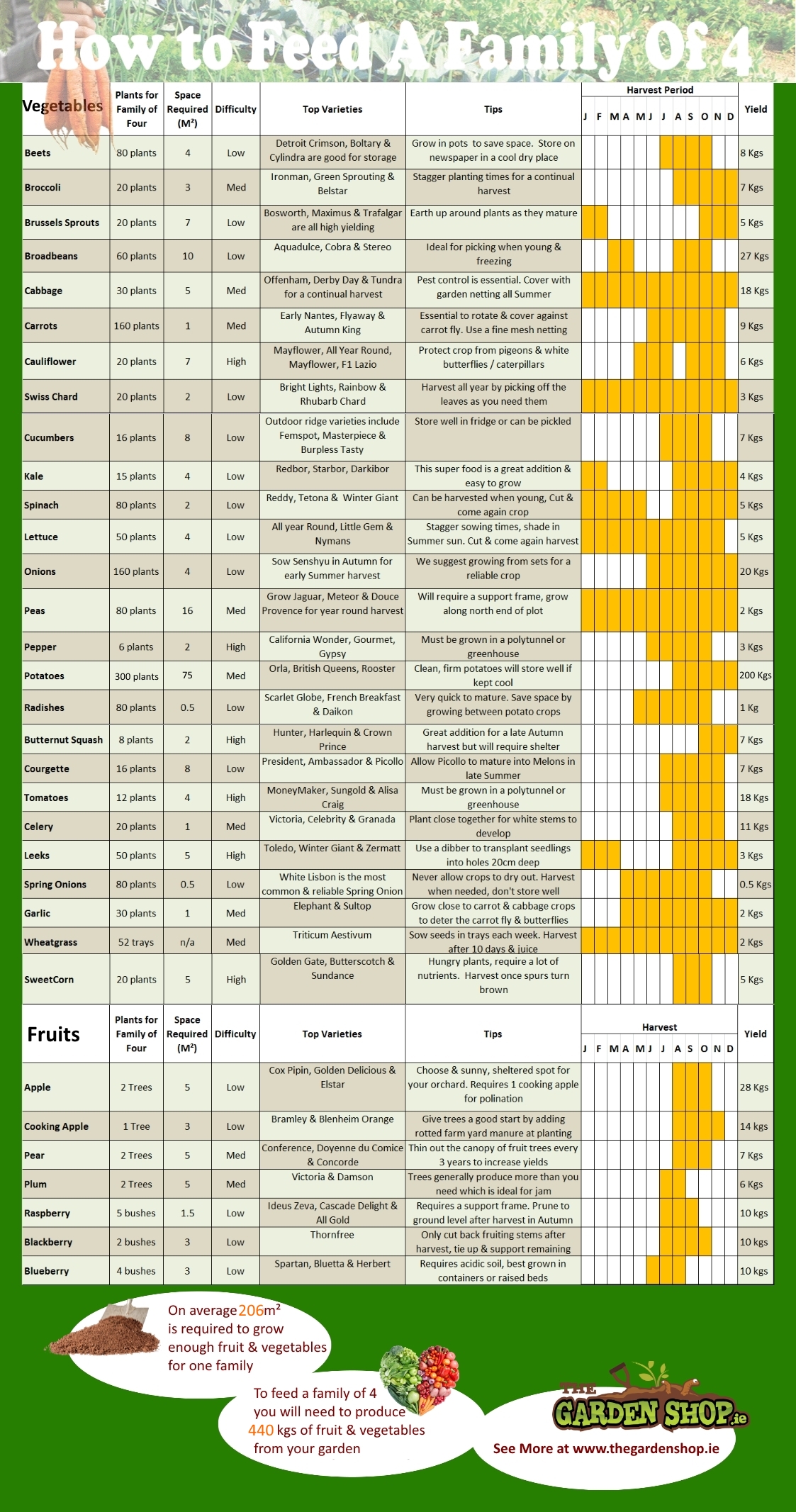 One essential point to note of course is that this will only be possible if you have access to good quality soil. While good practice & good seed choice is essential, it will all go to waste if you do not have the right soil conditions. So, before committing to a life of independent living, check the condition of your soil and read up on our tips & advice on soil care and how to improve your soil for optimum growth.
To maximise the use of space & to ensure a healthy diet, you could focus on high nutrient foods including kale, blueberries, wheatgrass, sprouting seeds & potatoes. To maximise flavour in dishes we suggest growing sufficient amounts of the Mirepoix vegetables, the holy trinity of vegetables; onions, carrots, and celery. These three vegetables make up the basis of most stews, soups, stocks & sauces.
From our infographic above you will see that on average 171m² is required to grow enough fruit & vegetables for one family. In other words, you need an area just under that of a single tennis court, or 1/25th of an acre, or 1840 square feet.
At TheGardenShop we have everything you need to get started at growing your own including a wide range of garden tools and equipment for digging soil, adding nutrients, maintaining vegetable plots, controlling pest & weeds.